Maverick Miles & Musings
Underground® 9 is officially in the books!
I am happy to report it was the single largest gathering of Maverick members yet. (I think about 70+ showed up to our Nation's capital.)
The Maverick Future Trends Pre-day created some excellent conversations and insights to help Mavericks stay ahead of the curve in the upcoming year. (A link to the Underground presentations is available inside the evolving membership site maverick1000.net>Resource Library>Underground 9 Online Seminar)
A few of the event highlights include Maverick member Steve Little's creation of Early EXITs from your business while making a positive cash flow all at the same time. Roger Hamilton gave you his newest take on the future of business and entrepreneurship. (We had a few technical hiccups since he presented on Skype from Bali but it worked out.)
Mike Cline's Tech Guys who Get Marketing team gave you the low-down on the newest hack for Facebook you can exploit for serious micro-targeting.  Jeff Vacek explained to you why email is still the killer app but how you can also piggyback on the 'big boys' of ecommerce to get your mail delivered.
Plus we had 2 special guests:
1)    John Hall is a bit of the secret sauce behind massive exposure online. His Digital Talent Agency has thousands of relationships with influential publications and online outlets that have massive reach. He presented you with the 21st century of interconnected content, credibility and exposure online. A must for just about any Maverick and their company today. (Note: John's company DigitalTalentAgents.com will give Maverick members a 10% discount on their services. They do a pay-for-performance medial placement. Well worth it as they've gotten me into Forbes, Washington Post, etc.)
2)    Rohit Bhargava was back for a second year. Rohit has led branding, digital and social media strategy for dozens of the biggest brands in the world through leadership roles at Ogilvy and Leo Burnett marketing agencies in the US and Australia.  He is the best selling author of two books (including the recent global marketing best seller LIKEONOMICS) and is Professor of Global Marketing at Georgetown University.
After a bit of business Maverick members hit the streets for our first-ever Mp3 experiment.

Mavericks taking Washington DC, Go Go Gadget Style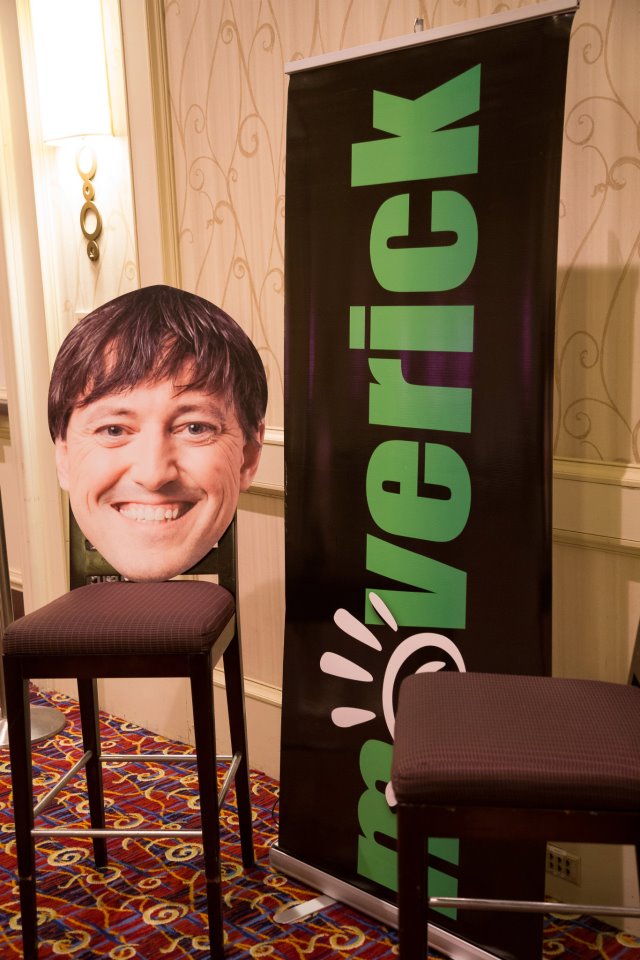 And what would Underground® be without some of our Maverick mischief and mayhem? On day #1, Maverick #181, Joey Coleman, got a little bit of the royal treatment. A few minutes into his presentation the lights went off and the slides went dead. Joey was a pro until the lights went back up and about a dozen huge Joey heads came bobbing up onstage to the tune of 'Cotton Eyed Joe(y)'.
My favorite quote was from Joey once he realized what was happening since he witnessed it last year with Maverick member #104 Shelby Larson being mortified. His only words were, "Oh no…."
I loved seeing the Mavericks really step it up throughout the whole event, especially at the 'Go-Glow Gadget' party on Friday night.
One of the best parts of the Go-Glo Gadget party, was when one of our newest members, Maverick #191, Ben Croft, lead the charge to make sure we got our own version of the Harlem Shake created at the Underground®. For that we allowed Ben the honor of being the man in the mask for the first take. Check out the video here:
underground_online_seminar_2013_-_harlem_shake_640x360
Several Maverick members represented at the Young Entrepreneur Scholarship experience at the event. For the last several years we have created a scholarship opportunity for 10-15 young entrepreneurs, ages 13-23, to attend the event. It's been exciting to watch what some of these scholarship winners go on to do afterwards – including even becoming members (Brian Moran #152).  During the first lunch break at Underground, we had a handful of members share some of their hard-won advice and experience with the young winners. They were having so much fun that they didn't want it to end!  So they stayed even longer after lunch continuing on the conversations and mentoring.
I heard from so many members that this Underground® was the best one yet – thank you!! But I can't take credit. It would have been impossible to pull it off without my partner, AJ Roberts and Sophia Umanski, who heads up the entire event logistics and is my partner-in-crime for the fun. (btw- Sophia works with a handful of Maverick members throughout the year on their own events to inject that maverick DNA into them.)
Your Underground 9 Partners in Crime: Sophia Umanski, Yanik Silver, and AJ Roberts
The full event recordings of all the presenters at the Underground will be available in the next few weeks for you to review and share with your team. We will let you know once it's available inside the member's site.
I presented an all-new speech on "The 13 Key Traits of the Most Exceptional, Extraordinary and Enlightened Entrepreneurs". Many members responded with how much they appreciated and enjoyed this presentation so I'll potentially be turning this into a book or definitely a longer blog post.
Until next year…
Yanik Silver: Its time for take off!