Lots of updates and exciting things goings on…
I did something I never thought I'd do – I signed up for a Triathlon. When Sophia and my wife, Missy, heard – they both asked if I was a little crazy. I'm not sure yet. I haven't ran since high school and didn't even own a bike.
You see, I had been contemplating doing this after a Virgin Unite board meeting a few months ago in NYC. (That's actually another piece of exciting news; I've been asked to be on the Virgin Unite board to help create and connect communities of impactful entrepreneurs to use business as a force for good!) One of the board members is Sam Branson, Richard's son. His charity is called 'Big Change' with the idea of providing early stage funding for innovative projects that can drive long-term change to support young people.
At the meeting they told me of a planned Strive Challenge to start in Northern Italy from the base of the Matterhorn, cycling the entire length of the country, swimming from Italy to Sicily, mountain biking to the foothills of Mt. Etna and then running a half marathon to the summit of the active volcano.
Whoa!
Well I was finally swayed by Richard Branson's email asking if I wanted to participate. I decided if I was going to go for the challenge – let's go all the way- Maverick style. So,  I signed up for the Triathlon portion, the toughest part. Approximately a 2 mile swim, 70 miles of mountain biking, a half marathon and then a 6 mile hike just for good measure to the peak of Mt. Etna in Sicily.   
This leg starts the day after my 43rd birthday so I figured it'd be an excellent way to start the first day of my next year. There are several Mavericks who signed for the Strive Challenge triathlon too; Maverick #269, Tom Shieh, Maverick #290, Samit Gehlot, Maverick #287, Pat Divilly. Plus I believe a few other Mavericks are doing the hike in the Alps for the beginning stages. It's great to see so many members kick it into high gear to challenge themselves. (And big thank you to Maverick #211, Steve Young, for hooking the 4 of us with a Triathlon coach to ensure we're ready for this challenge come September 26th.)
If you want to help support the group there's a donation link here:
http://uk.virginmoneygiving.com/maverick1000
We'll do some kind of "interesting" outfit for the Strive Challenge based on donation amounts.
Camp Maverick
Camp Maverick is just around the corner. I hope you're as excited as I am! We've got  an incredible group of 'campers.' I thought last year's attendee list couldn't be beat – well this one is even better. Now by the time you get this there may or may not be any public tickets left, so if you have a friend or colleague that you think will add to the experience, give them an invite using code: INVITEDOWL and they'll get a discount off the retail ticket at www.GoCampMaverick.com
Speaking of Camp –
The week before the kids headed off to sleepaway Camp, Missy and I each took the kids out for some 1-on-1 focused, intentional time together.
At the last Maverick Family Freedom event we both heeded the advice of my friend Jim Sheils, co-founder of BoardMeetings . He believes (rightly so) that it's important to have just one child and one parent for a 'retreat'. You want to share an experience you both will enjoy. And finally, a real biggie is NO electronics. Yep turn off the phone and technology.
So for "Daddy/Daughter Day", Zoe and I went indoor skydiving as her adventurous activity.
It's a bit of haul from the house but it gave us more time in the car together to talk and hang out.
I feel like the best lessons are from actually living them. Of course it's usually less about what we say and more about what we do. A long time ago I committed to really wanting to make my life my lesson as much as I possibly can. More like guideposts along the way. As Ghandi said, "My life is my message."
I love it when the kids "catch" me doing yoga, meditating, journaling, reading, being kind to others, doing fun things, teaching, writing, etc. (I remember a study awhile back that mentioned kids that see their parents exercise are healthier, so instead of waiting until kids go to school to exercise they do it in front of them or even together.)
A Different Lesson Learned
Now I thought I might teach Zoe about giving and random acts of kindness on the way to skydiving. We paid twice for the person behind us at the toll plaza. Usually the person acknowledges you, beeps or catches up to you. I thought that would happen again and Zoe would get a little jolt of joy from that. But no, not this time. I was a little frustrated but then realized the real lesson was non-attachment. I told her receiving the thank you is not important – it's just the act itself that makes us happy as we pulled into our destination.
If you've never heard of Indoor Skydiving or tried it – think of a giant chamber where they blow air up so you can position your body in such a way to mimic skydiving.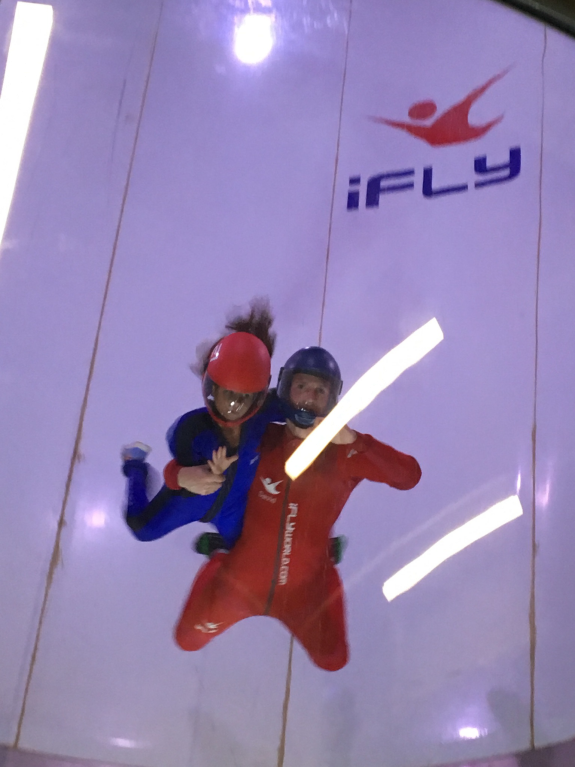 Zoe did her first flight and did fine. The second flight is a high-flying one with the instructor where you go much higher in the chamber. I could tell she was getting a little nervous but I just told her to breathe and enjoy it. She made it through flight #2 and was really proud of herself.
I'm hoping this moment will add to the mosaic of her adventurous self-identity anytime she feels unsure or scared to do something.
The next day was "Daddy/Dude Day" with Zack.
For the guys day out, we picked Top Golf and miniature golf as our outing.
Top Golf is a driving range that's been upgraded for the 21st century. It's very cool and they're building locations all around the country. Each ball has an RFID chip in it so it tracks distance and where it lands. There are 7-8 holes you are aiming for with different scores for each one. We played a few different games including one where you just aim for one particular hole but you have to hit the ball into each of the 9 different pie-like slices surrounding the pin.
Intent and Targeting
Cue up lesson from Dad:
Zack did really well at this game. I technically won on points since I hit to the pin and got more points  for that, but he beat me on lighting up more areas of the hole. It was a great lesson we talked about over burgers on intentionality and targets. Previous games we just aimed for any of the holes but specifically and deliberately aiming for just 1 hole we each got better. Will that lesson stick? Who knows – but I do know for sure you learn better when that lesson is tied to an experience as an example.
After that we hit the miniature golf course and started making up our own rules to make it more fun. Rules like standing on one leg, pool cue shots (ode to Chevy Chase) and backgrounds through the legs were a few of them that made it lots of fun.
I've committed to making sure we have quarterly meetings like this that are scheduled and put on my calendar, otherwise they won't happen.
Think about it.
It's too easy to get busy with work and other commitments when we only have a small, precious amount of time with our kids. Most entrepreneurial parents I know would say they are working hard to help provide for their family. The travel, long hours and sacrifice is for a better tomorrow.
Yes, that's true, but there might also be a real blind spot I'll share with you…  
Zack vs. Jack
The other week I was supposed to go to San Francisco to have lunch with a CEO of a top technology company (his first name rhymes with Zack). It would have been my third week in a row leaving in some way and I had just returned from Haiti. I've been showing the kids what we are doing in Haiti and on other trips so they don't just think I leave for no reason.
I was debating if I should go to the West Coast or not. Even though I travel a bit, I have attempted to be home for just about every meaningful event for the kids. Whether it's a chorus concert or chaperoning a field trip. That kind of flexibility is also a big reason I work out of the house. That way I can play street hockey when Zack comes home from school or hang out with Zoe creating art. In fact, I remember Richard Branson telling me he's always kept his office in his house to be around everyone.
This might be controversial but I don't believe in sacrificing for someone else.
That simply creates regret.
If I decided to stay home instead of leaving for San Fran it was with intention. How many times have you said yes to something you wanted to say no to? Or vice versa. You only end up going to the event/meeting, etc. but really wanting to be somewhere else. I knew Zack would be thrilled for me to watch him play 2 baseball games over the weekend and that's exactly where I wanted to be in that moment. Even if this isn't a 'forever' memory – it just adds to ongoing story that his Dad supported him.
Love Notes from 30,000 Feet
You don't even need to spend a dollar for an experience to create one of these deep imprints.
I love handwritten thank you notes and think they are incredibly meaningful.
Receiving a personalized note makes such a deep connection because it's so uncommon in today's digital age. (BTW – if you want some great cards that also support Haitian orphans check out 10CardsofHope.com )
I've sent handwritten notes to my wife, family, colleagues and teammates but never the kids. So on a plane ride home I figured maybe they'd like them. I told each one how proud I was to simply be their dad and then what I appreciated about them. I left the notes on their dressers while they were sleeping to see what happened.
Here's the note I wrote to Zoe: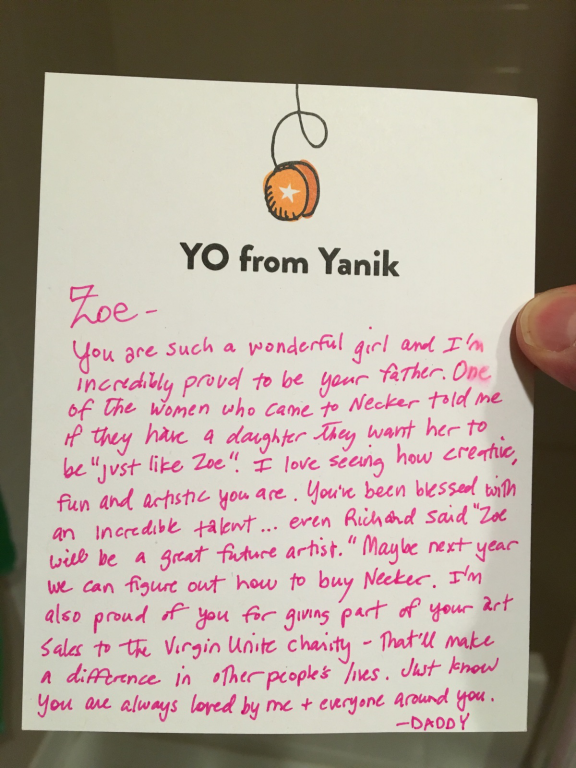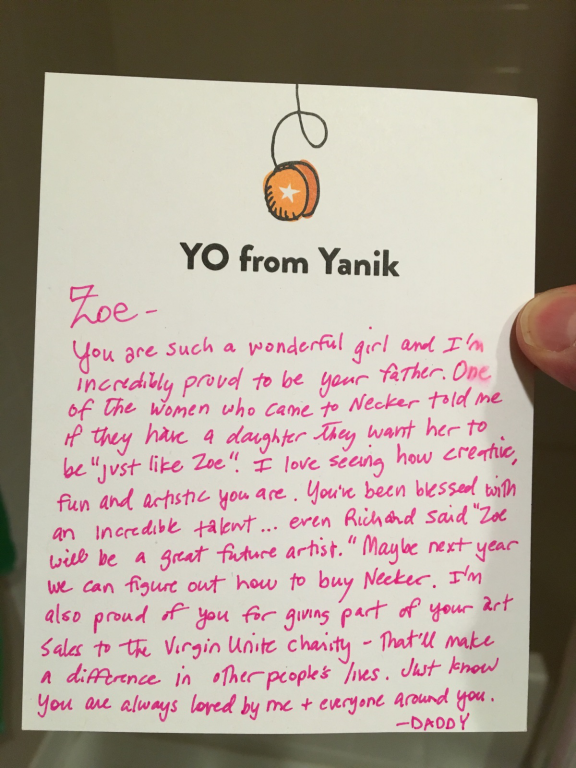 Both Zack and Zoe treasured their notes.
I know because Zoe has hers tucked away on her bathroom mirror behind a picture and note she drew for herself: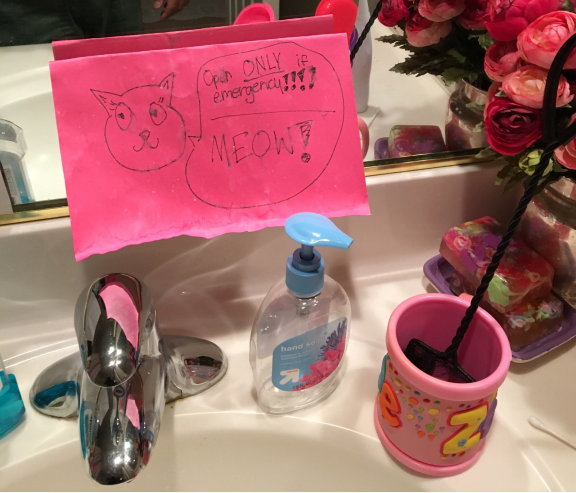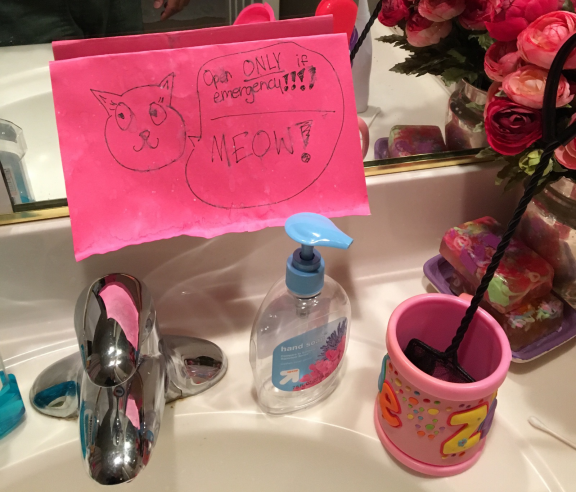 When you open that note it has reminders of some of the happiest memories she's had to help her feel better if she has an 'emergency' sad feeling.
Personally, I still have a note my mom wrote to me that I've kept for 12+ years now after Missy and I took her to Vegas while she was going through chemo. A note costs you nothing but your time to acknowledge and appreciate the unique awesomeness in your kids.
These are the kinds of conversations we have at the Maverick Family Freedom event. It's over New Year's Eve again in Florida this year. If you have kids ages, 6-16, check it out: www.maverick1000.com/family