Maverick Musings
The first half of '15 has been pretty packed and we're not slowing down…
Certainly one of the biggest marquee experiences we do each year is Necker Island with Sir Richard Branson. This year marked my 7th time going and  I'm extremely grateful and humbled by my experience each time and for the time I spend with Richard.
It was the perfect arrival as we pulled up in our boat and the song "Coming home" by Skylar Grey was playing. One of the staff members, Avi, who has been there for years greeted our family by saying, "Welcome back to your home." Love it!
That's one of the things that they do on Necker that I've never experienced anywhere else. The staff members really treat you like family and you feel like you have ownership of the place. Everything from being able to slide behind the bar to mix your own drinks, change the playlist as you'd like or just about whatever else you'd normally do in your own house.
That's one of the things that they do on Necker that I've never experienced anywhere else. The staff members really treat you like family and you feel like you have ownership of the place. Everything from being able to slide behind the bar to mix your drinks, fix the playlist as you want or just about whatever else you'd do in your house.
Plus this…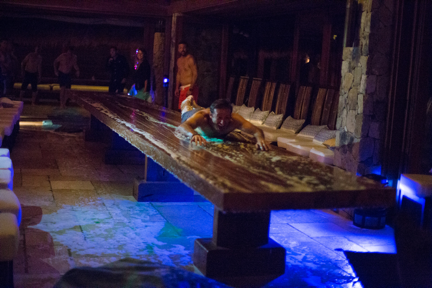 This is an epic 'slip n' slide' that has been banned on Necker because of too many injuries. When I found out about it, I thought it was the perfect next installment for a bit of Maverick Mayhem!
I didn't think I had too many new things still left to do on Necker after seven years but this was definitely a first. We started by dousing the Great House table with water and liquid soap. Then, anybody who was "brave" enough to take
a running start and leap across the table took their chance, knowing there was a very good chance of running into the table or hurting themselves some other way. A lot of us were pretty sore the next morning with bruised ribs and what not, but it was worth it. And the ultimate winner(?) of the evening was Maverick 229, Michael Brubeck who took the Slip n' Slide to a whole new level. (You've got to watch the highlight video to see what he did. www.Maverick1000.com/neckervideo)
Maverick Beach Party with Sir Richard
There were 50+ Mavericks who joined us for the biggest Beach party to date, hosted by Sir Richard. He was such a gracious sport. I love how he throws himself headfirst into just about any adventure or fun activity. We had the staff at Necker working on the 'Amazing Necker Race' for weeks before we arrived. It was the biggest and most elaborate one yet, going all around the island. (Actually another first for me as I've never been all the way around the island.)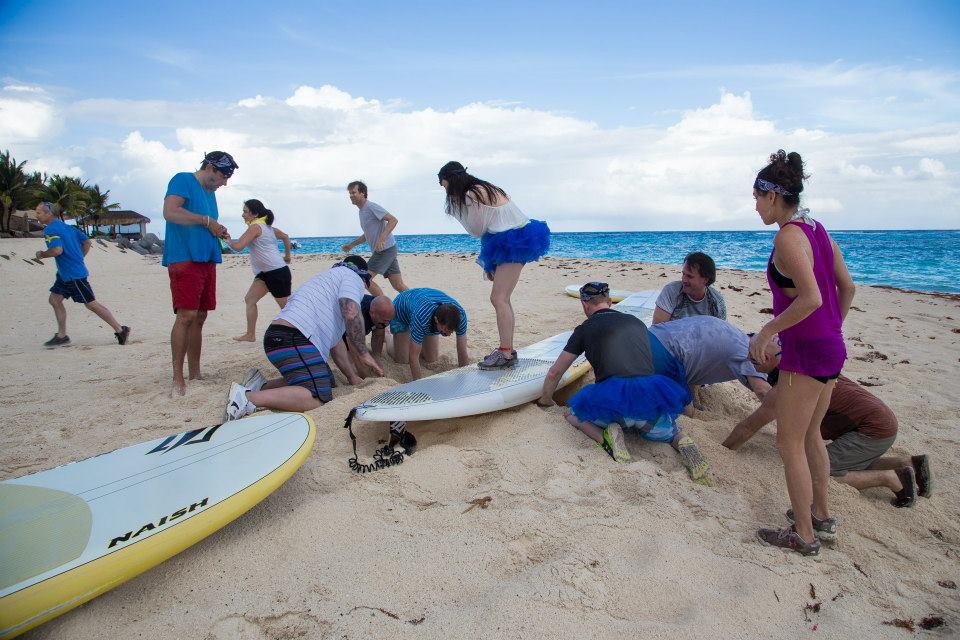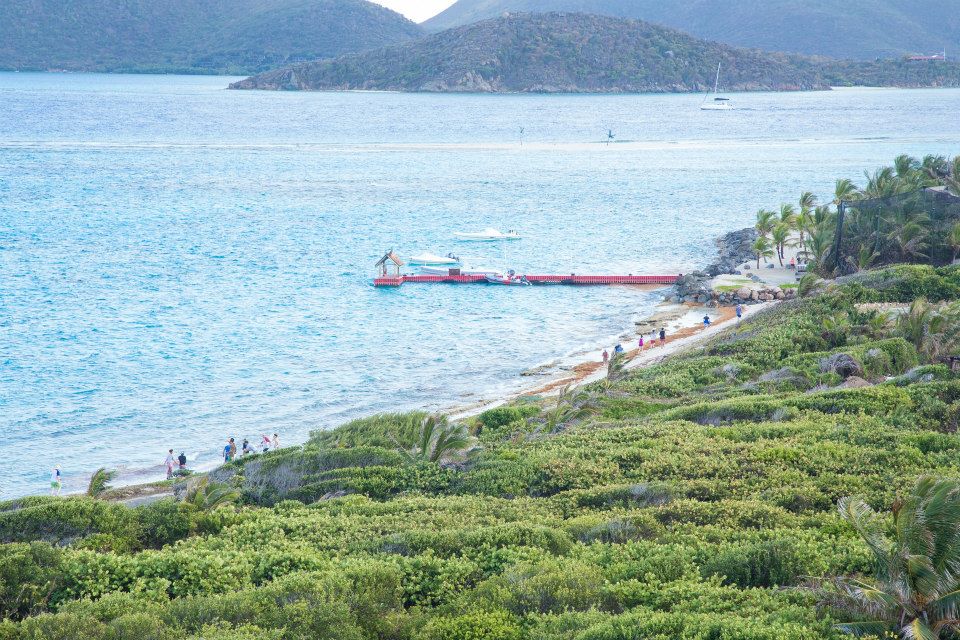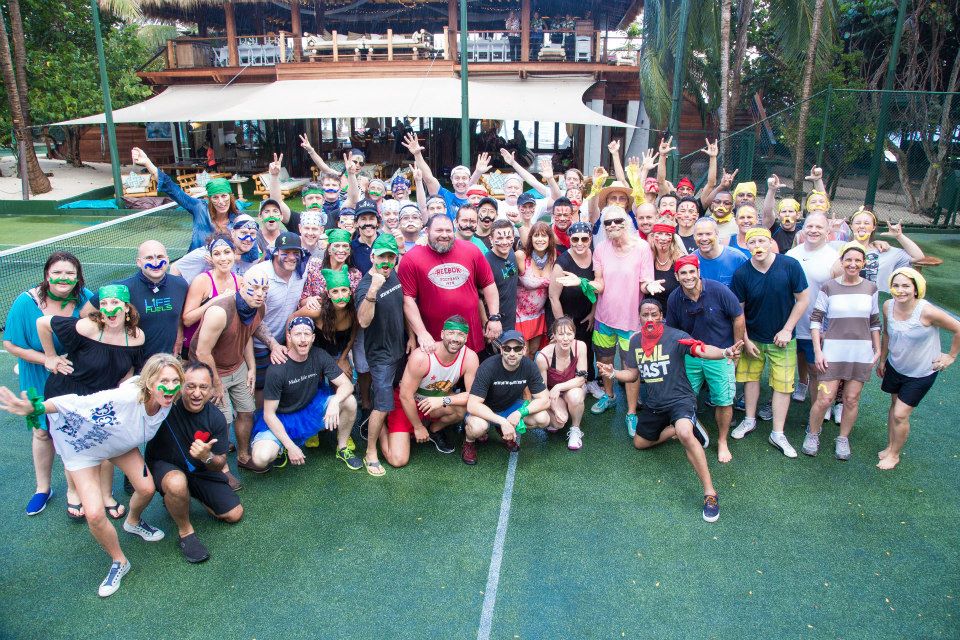 Right before the teams started off we got a downpour of rain for a few minutes. Just enough to make things really messy. I didn't follow my packing list (surprise) and went with flip flops. Not a good call. I decided I'd go barefoot through the whole thing. Richard looked back at me at one point and yelled, "You're Mad!" I figured that wasn't a great sign but I made it (barely) through all the rocks and cactuses that fill the far side of the island.
That night was the 'Myths and Legends' dinner and party.
Before dinner we got Richard to do a special Q&A for the group. He had some great responses around what to do in the event of a crisis in your business. He had recently dealt with the Virgin Galactic crash and a train derailment some time before that. I asked him about the mix of adventure and business plus several other topics that I don't hear him talk about all the time.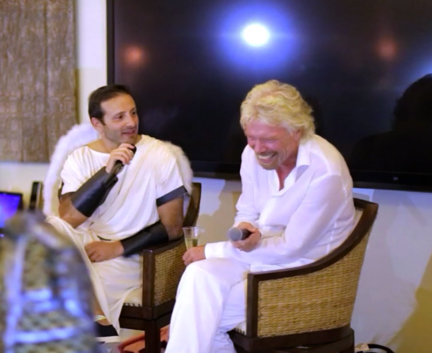 We recorded it for you. It was a bit of an impromptu interview and we didn't do a full blown AV production on it so the audio might be a bit off but still worth listening to:
password: maverick
(Please keep this private)
Richard got the party started after dinner by getting most of the ladies on the table to dance with him. He loves dancing on tables and it really is a lot of fun. A few days later I introduced table dancing to my kids and they thought it was totally awesome!
There is always so much that goes on during the week and you get a small glimpse of it in the highlight video but it doesn't even cover a fraction of the conversations and sessions we ran.
This year I cornered Kenny Jones, the general manager of Necker to do an off the cuff Q&A with us. I always find it interesting to hear from people around Richard because they have a different insight and view.
Kenny shared some really great nuggets that stuck with me.
Richard takes input from everyone, doesn't matter your position or title. He truly listens and then makes a decision.
Richard manages with lists of items to address from small things to big ones.
Richard only provides feedback on what he is interested in and gives enough leeway for the team to solve the issues themselves.
Richard loves innovation, hence making Necker an experiment. They are installing solar panels on the island to make it energy neutral – potentially becoming a showcase in the Caribbean of what can be done. He has already successfully brought lemurs into the island and has expanded the population, etc.
Richard views everything as a business including Necker. It needs to be self-sustainable.
I've also been fortunate to bring my family along for the past 5 years. Being able to expose my kids to this level of thinking is truly remarkable. Here's our new family picture 😉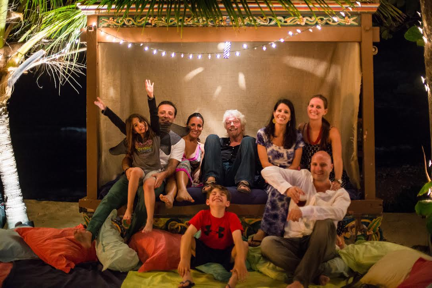 I'm a firm believer in putting the kids into unique situations and stimulating environments. Zack is 9 and Zoe is 7 – so I'm not sure they quite realize where they are, but we are getting there. I remember last year Zoe asked Richard how many businesses he had and his answer was 300. She turned to me and said, "Daddy you're doing okay – you have 4." Pretty funny.
Zoe definitely has that entrepreneurial spirit. She came to one of the last business sessions with 3 necklaces she made from ribbons on the island and shells. She thought she'd sell them for $10 a piece but someone suggested an auction and Zoe jumped at that idea. She ended up making $125. Nice haul for 10 minutes.
On the right hand side of our family pic, you can see my brother, Adam and his fiancée (now wife) Tessa . I invited them along for a pre-honeymoon. Adam has a venture-backed startup called Parking Panda. (Check them out – they're doing some awesome stuff across the country!)
One of my favorite moments was when Tessa was talking to Richard and he blurted out, "You're marrying a parking attendant". That made it into the best man speech I delivered 2 months ago at his wedding.
A big reason we come together on Necker was to work with Virgin Unite to change the way business is played. This year we were able to raise $237,750 that will be used for making a difference on social issues through business and entrepreneurship. We have lively brainstorming sessions around business and young entrepreneurship with the foundation and this year we tried something new.
A real issue around BVI is sea turtle conservation. We were able to go out and tag sea turtles with the Association of Reef Keepers (BVIArk.org). This was the first time they offered this experience to people outside of researchers and it was pretty cool. We actually caught sea turtles to either tag new ones or get data on existing ones.
The next day we worked with BVIArk on some business models and ideas to help them turn these sea turtle encounters into a self-sustaining business using the principles of an Evolved Enterprise™.
—
As a side note on Evolved Enterprise™ – the book is nearly ready to be released and I'm excited to get some great early endorsements coming in like these:
"There's a transformative shift in business and what worked before is no longer an option. It's time for evolved entrepreneurs, visionary creators and change makers to rewrite the rules of business for the 21st century." -Tony Hsieh, NY Times Bestselling author of "Delivering Happiness" and CEO of Zappos.com
"Yanik Silver is a truly conscious entrepreneur who understands that creating meaning for yourself — and everyone connected to your business — is absolutely vital in the 21st century." – Chip Conley former CEO Joie de Vivre
You can download a preview copy here – www.EvolvedEnterprise.com/preview4 and send me a quick blurb if you want it included in the published book as a little PR for you.
—
A few weeks after Necker some of the Mavericks and I headed to a whole different island experience, Haiti.
Haiti is now the world's poorest country – not just in the Western hemisphere as it used to be. This was my 5th time going to Haiti with one of my mentors, Frank McKinney, and Maverick #35, Doug Doebler.
Every year, people ask me if I notice a difference or if anything is getting better there. I always judge it by the airport. How chaotic or smooth it is to get through. This year we even paid a $10 tax to enter the country so that was new. Year after year I do notice a growing sense of hope and improvement. Roads that are better, infrastructure returning, etc. Our partner on the ground in Haiti is Hope2Haiti.org and they do an absolutely amazing job – from running schools and orphanages to heading up the building of all the self-sustaining villages we fund together.
This year was really special because it was the first time (in 22 villages built) that one was dedicated to someone. And that someone was Maverick #160, Jordan Gueurnsey and his family. Jordan's wife, Paola, was on hand to be a part of it. Jordan was with us in Haiti several years back and pretty much made an impression on everybody he ever met.
Side note: If you've never listened to the interview I did with him before he passed away – it's really excellent. I actually have never re-listened to any of my interviews, including ones with some pretty big icons, but this one is special. – Legendary Legacy with Jordan Guernsey – The Light Inside: Truth in Business, Life and Love –www.YanikSilver.com/lightinside/
About 15 of us decided to spend the night in the Guernsey village on night #1 before the official dedication ceremony. We set up in the community center and then went around the village handing out rechargeable solar lights for each new house. Doug was smart to bring some glowsticks too and we had an entire gaggle of kids following us around. When we finished handing out all the lights we were greeted by an impromptu song of gratitude from many of the children and ladies in the village. It was really amazing! Just a tremendous outpouring of heartfelt gratitude and joy. I loved it!
One of the attendees, Jon Sahn, captured it on video. Look out for my poor dancing:
So much positive uplifting energy. It's truly one of the gifts the Haitian people provide that is unlike anywhere else I've experienced. It's felt forced before, like the teachers making the kids sing for the guests, but not this time. The Hope2Haiti staff came up to me several times and said thank you so much for the money and for building the village. I said you're welcome but also reminded them that they are the ones doing the work on the ground and making it possible. Truly, together it works. Another reminder of a beautiful co-creation dance of serving each other. I receive so much joy out of seeing the impact being made.
The next morning the entire group went back to the Guernsey Family village where Frank and I said a few words to dedicate the site. Frank and Doug had assembled the biggest group yet to come to Haiti and their $250,000+ donations will actually fund an entire new village. I always love seeing the ripple effect Maverick continues to have. For example, Maverick #202 , Tom Karadza and his Rock n Roll Real Estate group brought Frank up to speak and and as a result, created 10 new attendees for this trip.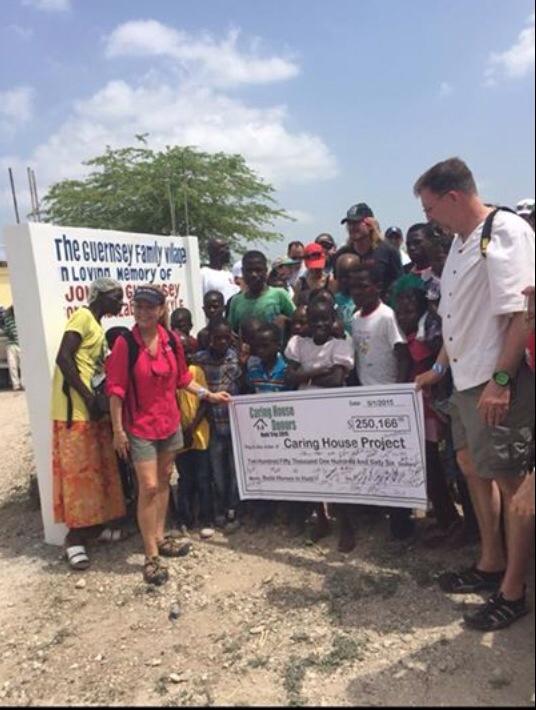 I could definitely feel Jordan's energy there the night before and morning of. I ended the dedication with my favorite quote of Jordan's, "Love is my religion." To me it seemed like this village had an even higher level of joy, grace and love about it. I captured a powerful shot of Paola off by herself in a moment of quiet reflection.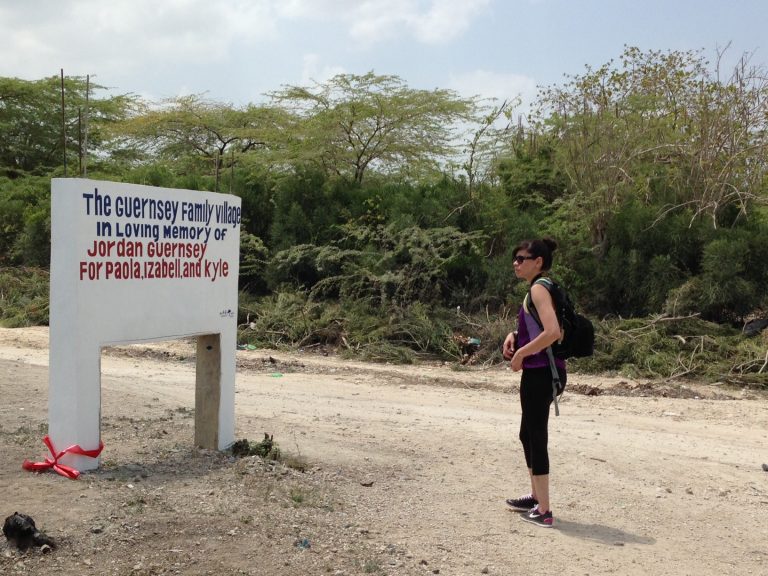 Frank and I like to play games and have fun wherever we go. After the dedication ceremony we came up with an idea to throw some rocks at water bottles 50 yards down the way. Whoever hit the bottle got to choose the penalty for anyone else playing. One of mine finally hit the bottle and sent Frank off to swap clothes with one of the villagers. Looking good…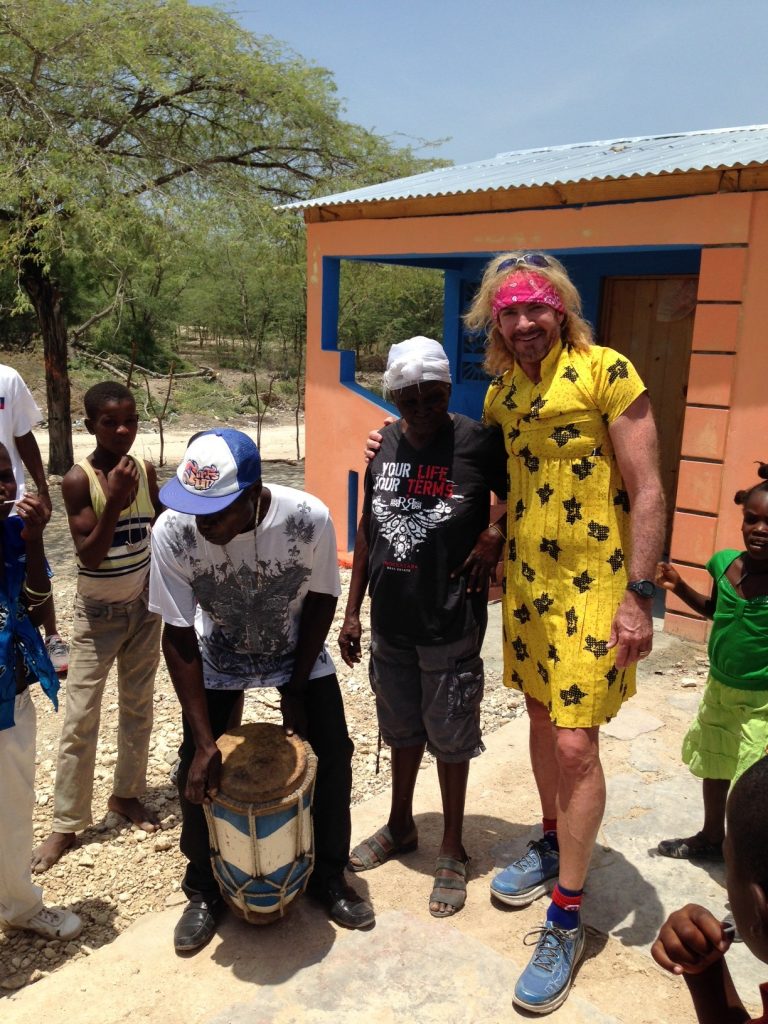 That afternoon we brought some of the orphans we support into our hotel. It was Frank's idea from last year to give them a chance to actually play in a pool and have a lot of fun in the ocean. It was awesome! We had so many kids running around, playing in the water and just enjoying themselves. Here's a quick snap of the pool party with Maverick #209, Andrew Pototschnik.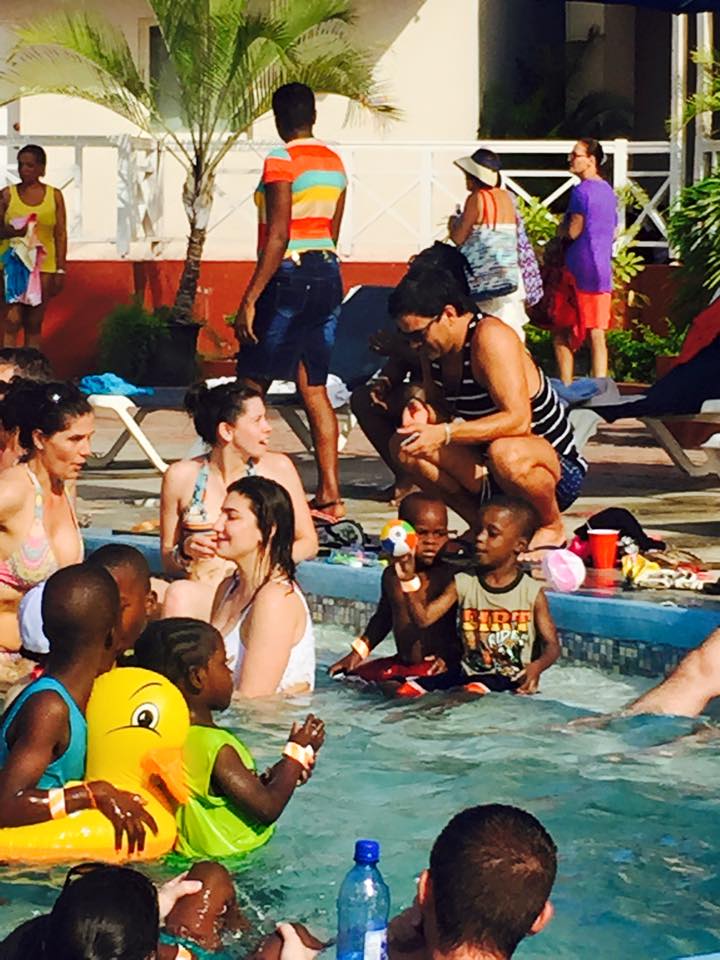 This year they had a jetski rental place on our beach and I figured that none of the kids that have ever been on one before. I rented a few and got some of the older kids on the back to hit the waves with me. Great day!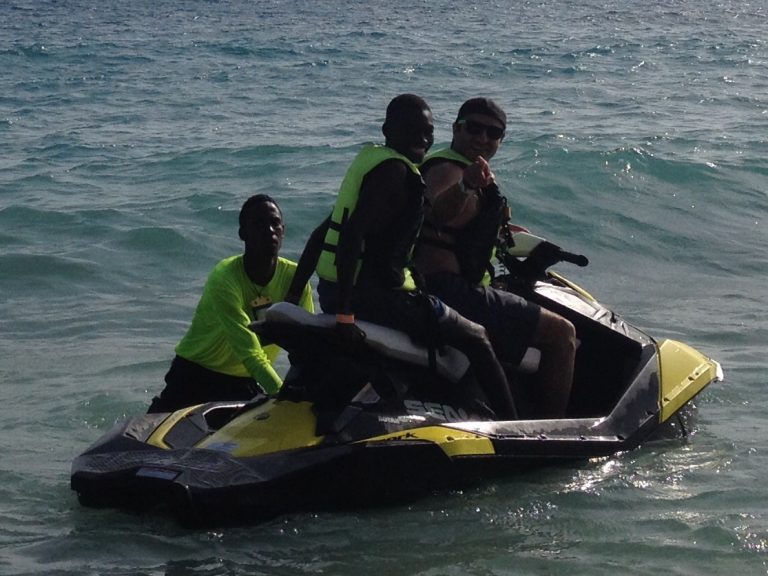 We still have a lot of big things coming up for the remainder of the year with Maverick including a new Summer event…
Camp Maverick
Get your RSVP in for Camp Maverick taking place August 20-22, 2015 in the beautiful Berkshire mountains of Connecticut.
Imagine heading back to sleepaway camp as an "adult" (or maybe even going for the first time like me). Picture taking everything that is great about camp and adding the Maverick green treatment.
In addition to the dozens of activities and unique experiences we've got planned for you – there's another big piece that makes it really cool. Your 'Camp Counselors' are the experts and business minds you'd normally see delivering keynotes at seminars – but not here. At camp you'll get to curate your own experience by choosing which subjects you want to learn more about and which activities you want to take part in. (And if you want to be a counselor let us know.)
It'll be an awesome mix of business development, high-level connections and a big dose of Maverick Mayhem – summer camp style!
The good news is that your participation is included with your Maverick membership. (You'll just need to cover your lodging, which include all of your food and drinks.)
Sign up now here – www.Maverick1000.com/camp
All the best!
Yanik