Maverick Miles & Musings
3X Multiplier Retreat: San Francisco
It has been a serious whirlwind for me since the M3 Summit; partly because we headed to San Francisco for the first of 2013's 3X Multiplier Retreats, then a few weeks later we went to Sweden.
So here's a little catch-you-up-to-speed…
San Francisco: This was our first of three official 3X Multiplier Retreats, with a business breakthroughs day, impact day and experience day. On the business breakthroughs day we started off with my buddy, Chip Conley, best-selling author of PEAK and Emotional Equations. Peak is my favorite book that Chip has written and one that I always recommend. It's about delivering on Maslow's hierarchy of needs for your 3 main stake holders; customers, team, investors. 
I have a jotted down a few notes from Chip's presentation in my journal that really stick out…
"What is your calling? Or is it a workaholic tendency?"
What a great question to ask yourself. Chip talked candidly about his position as CEO of Joie de Vivre, going from a calling to more of a career. Leaders are the emotional thermostat for the business and the team. Your people want to emulate you. And living a calling means allowing something or someone to channel through you. You are being called by something bigger then you, to live a life of greatness.
The clarity Chip got enabled him to shift out of his role of CEO to allowing his writing & speaking to become a bridge that led him to his true calling; festivals and celebrations. He gave us insights into Fest360.com, his new site which will be out soon.
Another favorite quote I wrote down was,
"We spend the 1st half of our lives accumulating and then the 2nd half editing."
Note: You can see Chip's presentation inside the Maverick private members site – www.Maverick1000.net
Throughout the day we had members share their big 8-minute ideas including Maverick Member #175 Raul Villacis's morning ritual, motivating excellent employees, creating tools for teams to solve pressing issues and looking at the future of currency. Other guest speakers like Bill Walsh provided a peak at the high-level International deal making he's involved in. Mike Del Ponte offered some new insights into how he grew Branchout from zero to 30M users. He used Facebook's virality functions while incorporating easy viral features to launch his new social entrepreneurship venture via Kickstarter.
It was a packed day!
That night there may have been a little bit of Maverick Mayhem for Maverick Member #104 Shelby Larson's birthday:
The second day was our Maverick Impact day where we put some of our entrepreneurial brainpower and muscle behind different challenges facing non-profits and new startups. Best of all , we dispersed the new Maverick Impact fund (it's small this time around but the pot is going to get bigger and bigger).
Village Enterprise was our first non-profit on the hot seat. Because of their pioneering work training and developing micro-entrepreneurs in East Africa, we have supported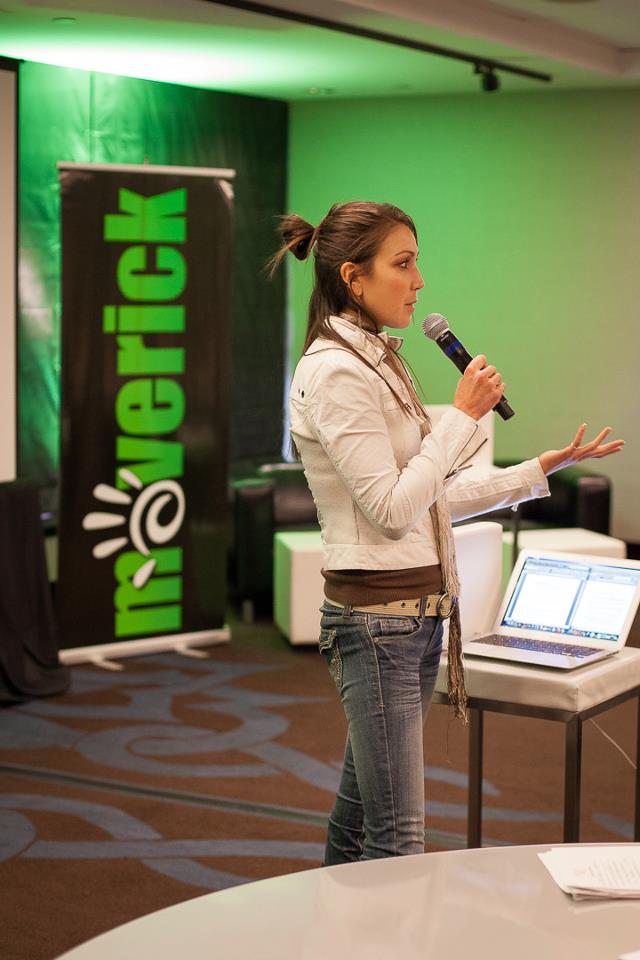 Village Enterprise for several years now. Interestingly enough the founders of Kiva came from VEF.
We tossed around some really good ideas with Dianne. I think you will be seeing something about the '100 microbusiness challenge' pledge as soon as we round it out.
Later that day we spent time brainstorming, putting our startups-in-residence on the hot seat and listening to new emerging startups who were looking for help and input.
Finally, we wrapped up with the Experience Day and Mavericks had to choose between indoor skydiving and circus training. The trapeze was certainly the centerpiece as we flew through the air with the greatest of ease. (Or something like that anyway.)  To the delight of onlookers, Maverick Member #100, William Lee, showed off his new gift but then couldn't make the catch. Although, he got right back up and successfully hit it the second time
After having the "experiences," the Mavericks were given a surprise lunch with a wine tasting…keep in mind that we don't really do things the "normal" way. So we had a competitive wine blending. Teams had to pin-point miniscule differences in their proprietary blending formulas of Zinfandel and Petit Verdot. The judge may or may not have been influenced by flowery language and an amazing sales job by Aydika James, one of the new Maverick Start-ups in residence. Aydika and her team's wine will be called 'Maverique' and is now on sale at the wine bar.
Don't miss the next 3X Multiplier Retreats. We are already working on some special surprises and have some cool things coming your way.
Chicago: May 15-17, 2013
Las Vegas: October 21-23, 2013
For more information regarding the above events, please contact Kim at kim@maverick1000.com or Sophia at sophia@maverick1000.com.
***
Ice…Ice Baby!
Maverick's Swedish Extravaganza!
A few weeks after San Francisco, we headed out to Sweden for the 'Ice, Ice Baby Excursion'. The word I keep using with my friends is 'cool' so I guess pun greatly intended here.
The Ice Hotel has been on my Ultimate Life List ever since I heard about the remarkable "hotel" where you get to sleep in a balmy -5° and everything is built from snow and ice.
Harvested from the Torne River, huge blocks of crystal-clear ice are pieced together to build this magnificent hotel in December.  It is occupied by visitors until it melts back into the river come April. This was something I found interesting to ponder. Imagine if your entire business 'melted' each year and you had to start anew. What would you keep? What would you change? It's a really good exercise to consider, especially since more often than not we keep things status quo for so long, until we are forced by outside forces or competitors to change. But what if the Ice Hotel is a prime example of the natural cycle of creation?  Perhaps we need to renew and rebuild each year?
All of the Mavericks in attendance enjoyed sleeping in ornate and totally unique art suites created by artists from all over the world. Each suite features an entirely different design, with amazing sculptures and other cool features. My art suite was called 'Cold and Crazy,' which I felt was pretty appropriate for me. It was a beautifully whimsical expression of the fun and joy associated with snow and ice.
I had multiple snowmen in my room with different designs, my favorite being the one I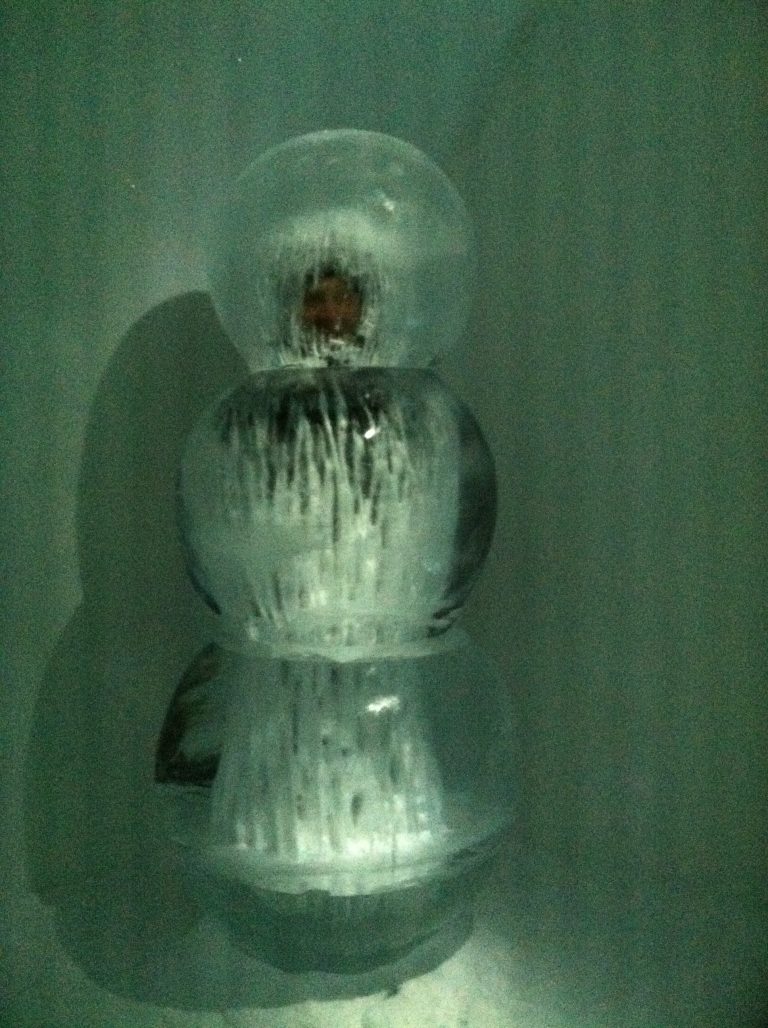 could pop behind and stick my head into, making me look like I was a snowman.
As a kid I always loved the snow, but as an adult I don't always have that same sense of awe that comes with snow. Nowadays,  it's making sure the driveway gets shoveled and the kids are dressed warm and having to deal with boots, snow clothes, etc. etc. It really impressed me when I saw Mavericks, Mykola Latansky #178 and Tatiana Latansky #189 pushing each other into snowdrifts while walking home from the restaurant.
Playing in the snow in Sweden was a perfect reminder of that sense of fun and goofiness, something that is core to my being.  with that said,  and I could not have picked a better room for myself.
The sleeping arrangements were…..well, interesting. Basically, you are sleeping on a reindeer pelt covered mattress that sits atop a big block of ice.  You have to crawl up into a sub-zero sleeping bag and once you get all snuggled up, it really isn't so bad…. unless you have body parts that were not covered. My nose was frozen and the tip stayed red for a few days which had me slightly concerned.  But I am happy to report that all is good, my nose is back to its normal color. There were a couple of nights where I woke up at 4am with the urgency to pee, which was a big decision to make. It's pretty hard to sleep when you really need to go but then again it was so damn cold! I got my boots on and stomped over to the warm section of the hotel to go to the bathroom. Once I got back into my room, I couldn't fall back to sleep so I just hung out in my suite and appreciated the intricate artistry.
The 'wake up' call came at 7am and I was told I was the only person who has ever walked in wide awake for the hot lingonberry cocktail. (Side note: Lingonberries definitely seem to be placed in just about everything over there!)
The next day was ice driving and snowmobiling. We took 4WD Mini Coopers out on the Torne river and tested our abilities to drive on the slick and slippery surface. A few of the drivers were surprised by the fact that we were driving manual transmission cars. Once Maverick #176 Bobby MacDonald figured out the clutch he had no problem becoming intimately acquainted with a nearby snowdrift.
In the afternoon our group took snowmobiles out for a long trek as the sunset (around 3 PM!). I was in the back of the pack and was letting the others get ahead of me so I could let the machine loose a bit. But that idea was fairly short lived when I got off the more groomed trail and ended up in deep snow that was about chest-high before I got totally stuck. Hanging out there for 5…10…then 15 minutes I was wondering if anyone was coming back to get me. Our guide checked out the situation and we both tried in vain to dig the snowmobile out to no avail. The best move was simply to leave it there.
Yes, this definitely became one of the great "Maverick Moments!"
Maverick #71 Bret Fogle came up with the best ad ever for Craigslist – http://stockholm.sv.craigslist.se/mcy/3589035654.html:
Abandoned snowmobile for sale. Best Offer.
That night, the members who slept in the warm rooms swapped with the ice room people. I loved my ice room but don't think I could have slept there 2 nights in a row. I thought I could….Until after we went out for a big night in Kiriuna. Not sure the town knew quite what to do with a bunch of Mavericks in green moustaches running amuck.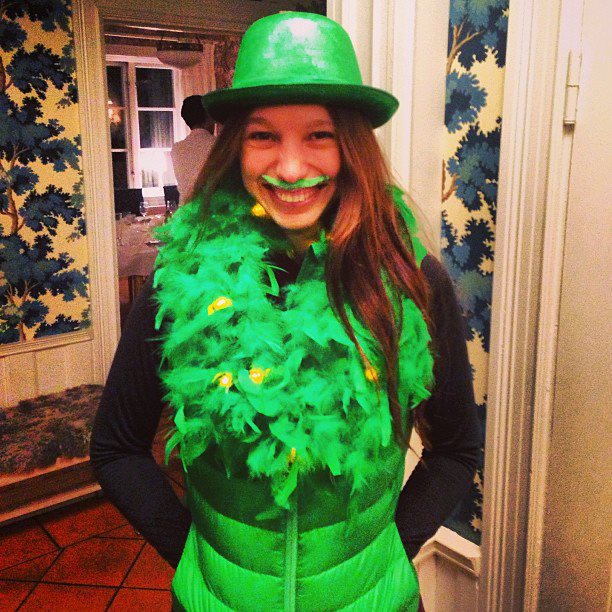 The next morning after trying our artist designs ice sculpting, we headed out deeper into the wilderness.
We headed even further up the Arctic Circle. The Wilderness Lodge was super remote and our transportion was  provided by the "4-legged variety."
Up at the Lodge we were treated to a true authentic Scandinavian sauna. That means going from sitting in super hot dry heat to diving into the snow and rolling around several times before heading back inside.
That night was Super Bowl and we actually were able to watch the game! It was the first time since 1992 that they had had any type of electronics there. The Super Bowl party was provided a pretty awesome spread by our chef that included a few Swedish treats like reindeer burger sliders!
We headed back to Stockholm the next day and no one knew if there was anything else really cool to look forward to. I was out of the loop, since Sophia, planned this leg of the trip without me to keep it a surprise.
The first night we held a guest lecture with entrepreneurial students at the prestigious Stockholm School of Economics. 
Our discussions centered around myths and misconceptions of being entrepreneurs, different business models for the 21st century and biggest mistakes and failures over our careers.
Tuesday morning in Stockholm the group was presented with a special mission that took place around the city.  We would be culminated to a secret location by a helicopter that awaited us.  We were whisked off to a special lunch, where the restaurant is typically closed during the winter but was opened just for the Mavericks. upon our return to home base we were greeted to another big surprise….a fire walk!
Yes, in the spirit of ice & snow – the opposite is fire.
I've always wanted to walk on fire but the opportunity had never presented itself… until now. Not everyone was up for it but I was pleasantly surprised by how many members went for it. Maverick #169, Mathew Gordon, went first, later on describing it as a 'spiritual experience'. He felt a wave of negative emotion come off as soon as he stepped across the coals. For me, I was wavering because I had been out until 5:30am the night before and feeling a bit sleep deprived, could not decide if this was the most ideal moment or not to try my fire walk. But after watching several members scoot across – I felt I could do it.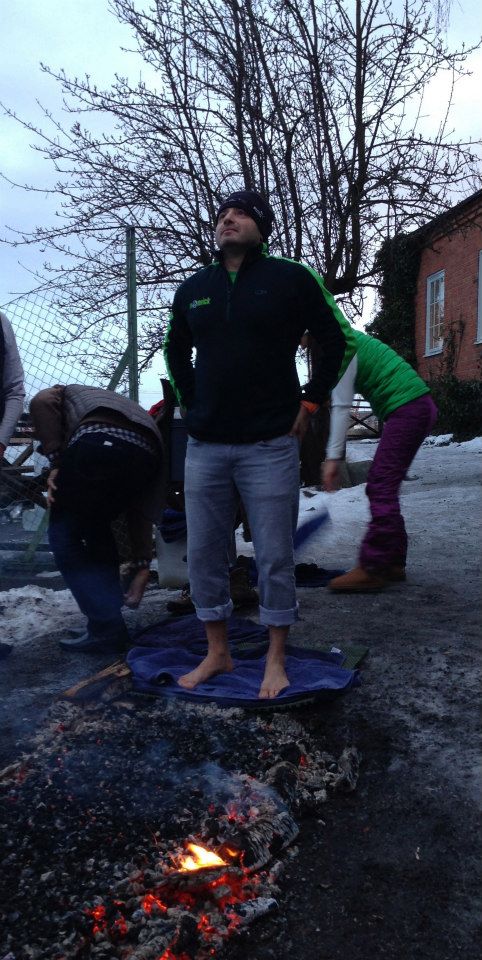 We wrapped up Sweden with a celebratory dinner 33 meters above the city in one of the most famous restaurants in the world.  This experience definitely goes down as a top 5 in my book.
Does going on a Maverick epic adventure sound like something you want to do?  Get ready for Maverick's Viking Expedition taking place in Reykjavik, Iceland-August of 2013.  For more information, contact Sophia at Sophia@maverick1000.com.