"Leaders..should influence others..in such a way that it builds people up, encourages and edifies them so they can duplicate this attitude in others." 
― Bob Goshen
It takes a lot of hard work, dedication, falling down/getting back up and humility to find one's personal success as an Entrepreneur. As Mavericks, we feel that we are responsible for passing the entrepreneurial torch to younger generations. This is why we look for opportunities to get involved, give of our time and expertise and reward those who are seeking input and working hard to achieve their goals. At each 3X Maverick Multiplier trip, we seek out startups who are local to the city we visit to come and compete in a "Shark Tank-like" competition in front of the Mavericks in attendance. This provides a two way challenge; one is for the groups in competition, to organize their research and data into an effective presentation. The other is for Maverick members to take the seat of "mentor or coach" and give of their expertise to those who share their road but are just a little ways behind. With that said, lets take a look at the 3 startup companies the Mavericks mentored in 2013.


Manbake LLC is providing healthier food options. They utilize progressive ingredients and superfoods in their products. They omit damaging ingredients like toxic artificial sweeteners, chemical preservatives and high fructose corn syrup. Manbake LLC is conscious of the common consumer's preference for taste and they specialize in gourmet flavors. They are a progressive company in a market desperately in need of progressive products. Gluten free. Organic. Good for kids. Good for diabetics. Adored by bodybuilders and fitness competitors. They are focused on redefining modern processed foods and providing quality products with amazing health benefits. The company is run by Seth Lagana and Lindsay Beck.
Manbake LLC competed with 2 other Las Vegas Startups at the 3X Maverick Multiplier in Vegas and walked away as winners with a $3,300.00 reward! I recently received an update email from Seth of Manbake. Check out what he had to say below:
Hello Rosalie,
Things are moving very fast at Manbake. We've been focusing on improving our website and selling our products online. We've also been talking with Whole Foods, Nutrishop and several major Crossfit gyms. Since we last met, Manbake has gained over twenty new retail contracts in the surrounding Las Vegas area. There are several investors who have shown interest. It is nice to be able to pick and choose the best one. We're planning to outsource all of our production to a co-packer moving forward. We're also looking for a distributor. As opposed to creating our own facility, we now have plans to open an office. I've been focused on stepping away from the production and distribution in an effort to expand our outreach and to focus on marketing the brand. We've begun to sponsor athletes and get endorsements from celebrities like Jay Cutler and Michael Trevino. Most important, we're making money! Our profits are up due to decreasing our cost and focusing on selling straight to the customer through Ecommerce and major events. Manbake Beefcakes are projected to be at every major Whole Foods in the country by next year and we also have plans to go to Canada, eh! We're still looking for the right investor. If anyone is interested, contact me: seth@manbake.us or 702-635-1554.
Telnyx LLC brings the telecommunications infrastructure onto commercially available computers in order to deliver more economical access to the PSTN (public switched telephone network).  Their target customers include Competitive Local Exchange Carriers (CLECs), mobile operators, international carriers, application providers (Skype-like apps, mobile apps), value-added resellers (dialing services, hosted telephony providers), and enterprise customers.
Unlike traditional carriers who source their equipment from specialized manufacturers, they develop their own "equipment," leveraging Linux and other open source technologies. Instead of having to scale through hardware, they are able to grow and shrink their capacity via a hybrid network design utilizing both their traditional hardware and virtualized components. This allows them to deliver calls at a fraction of the cost of many incumbents.
The Telnyx team is both young and development-focused. With three engineers on the team, they deploy emerging back-end and web technologies (i.e. REDIS, Twitter Bootstrap) to launch new products that outperform competitors. In addition, with a strong understanding of web and digital technologies, they are looking to disrupt the broker-based model of customer acquisition prevalent in their industry.
Their goal is to bridge the gap in access between urban and rural, first world and third world, in an effort to make universal service possible.
Telnyx LLC competed with 4 other Chicago Startups at the 3X Maverick Multiplier in Chicago and walked away as winners with a $5,000.00 reward! I recently received an update email from David of Telnyx. Check out what he had to say below:
Rosalie,
Absolutely! 
Some new developments: 
1. Even though we're bootstrapping, revenues are a little over double of what they were in May. 
2. We moved out of the incubator and leased our own space; it should accommodate 11-12 people. Also, new website – telnyx.com
3. We lost a co-founder, but hired a bunch. We are now a team of 7 people full time, 5 of which are engineers.
4. We plan on bringing on investors early next year.***
5. We're launching SMS & Origination (the ability to receive calls) Q1 2014.
I've attached an action shot from today, as well as one of Jon and me with two of the new guys. Happy Holidays from #teamtelnyx!
***Shameless plug: If any Maverick is interested in participating in our "seed" round, please have them contact us directly at 312.285.7447.
Best,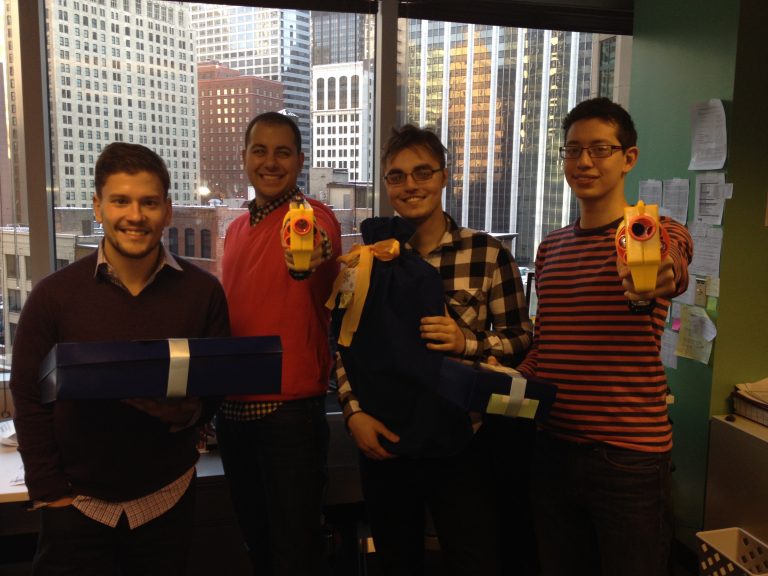 Do you have any questions about how to get more involved with Startups? Or do you know of a startup company that could use some "Maverick Magic?" Contact Rose at rose@maverick1000.com.