"2012 Renewal Summit" December 19-21, 2012…..Has come and gone.
And none of us will ever be the same because of it.  From soft tropical breezes to glorious sunsets to laughing and racing and scavenger hunts and dancing…..to being still and allowing ourselves to ponder life….what a trip.  An experience so powerful it has left a mark on all who attended, some more than others.  Maverick Member #154 Damien Zamora was among those greatly impacted by the "end of the world: the Mayan way," even getting a beautiful tattoo to help him always remember what went down.  Check out his words below…..
Mavs… You simply ROCK!!! Great times in Mexico! I wanted to share our experiences with ya… 12-21-2012 –The End of the World "As We Know It"..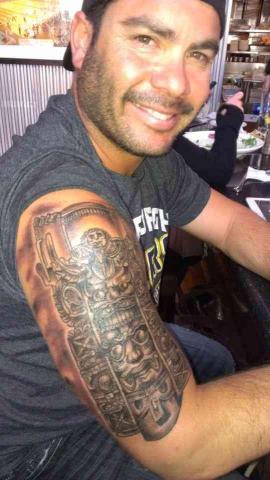 At the age of 40, I have to say this week's experiences were some of the best I've ever experienced! My love, Nikki Snow and I spent the week in Playa Del Carmen and Tulum, Mexico and as Nikki put it, got in touch with the Mayan culture. Accompanied by amazing friends, we went down in to the epicenter of reset of the 26,000 year Mayan calendar.
We were welcomed with a Mayan Warrior ceremony and costume beach party on Tuesday night when we arrived and then hit the streets of Playa Del Carmen the next day for an insane scavenger hunt broken up into 7 teams. It was like the Amazing Race.. Each team sent out with only, $400 pesos ($30. US), a camera and 3 guides that raced us around town on trikes following clues that had us negotiating with vendors, getting henna face tattoos ( Nikki got a mustache..lol,) climbing 12 foot palm trees for Coconuts, swimming out to fishing boats that took us out fishing for big game and to an underwater statue 20 feet below the surface to dive to ..just to name a few of the tasks.

On the eve of 12/21 we went to Tulum to a real Mayan village, invited to enjoy a ceremony conducted by our Shaman, to cleanse in a sweat lodge and sleep in the village on hammocks that were hand made for us. At the stroke of midnight we were in the clay hut, in pitch black dark besides the glowing hot stones, enduring the heat, sweating, meditating, reflecting on life to date, conquering fear, loving all friends, family and enemies.. Welcoming in the new age! Spirits both good a bad were definitely present as our Shaman guided us through the experience fully protected as we chanted, laughed, cried, screamed and just let it all out!!! The vibrations were surreal!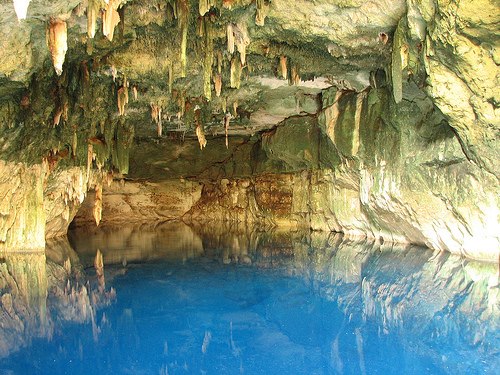 After the intense sweat session (cover photo) we jumped into a Cenote (check them out on Google,) which is a cavern in the earth with a pool of fresh water surrounded by stalactites, stalagmites and huge bats! The formations were amazing..

After being fed by the Mayans, we hit the open bar that we arranged to have set up and danced around the village amongst the trees, stars, ruins and the people both living and the surrounding graves.. A celebration of life for the past and the future. The moon was the brightest I've ever seen.. The Roosters were even crowing at midnight!

It's important to note that this was a drug free and mostly sober experience and yet there were signs all around us that made it clear that there was definitely a shift in time happening..

At 5 AM when most of our crew hit the hammocks, me, Nikki, a few friends and 3 guides set out to hit up an "End of the World Party" A 3 day RAVE with people from all over the world and hundreds of DJs ripping it up throughout the event. During our brief (aprox 4 hours) but satisfying time there we danced, danced, & danced on the beach as the sun came up… This was Nikki's first rave and it was seriously one of the most epic I've ever been to. And I've been to hundreds in my time!

The total experience was life changing for the both of us. Nikki and I are even closer as a result. I am so in love with this woman! She is my best friend and my life partner. We look forward to touching every corner of the earth together and this one corner definitely had a major impact on our future.

So much impact that I decided to get a Mayan designed tattoo (took 8 hours!!) on my arm that will ensure I never forget this once in a life time experience..

Thank you Yanik Silver and Sophia ! You guys really outdid yourselves with this epic event! I am truly honored to call you great friends and very proud to be a Maverick!

The Mavericks are a group we belong to which is a forum for business leaders to mastermind, Give back to worthy causes and experience wild adventures together. When I pass on into the next life my grave stone will say _ And He was a Maverick!

It's time for you to embrace this new world as we've left the old one behind. It was the End of the World .. remember?

12.21.2012
Pretty cool huh?   Take a look at some of your responses to Damien: