I've got to hand it to Maverick1000 Member #29, Pat Hull. He put on an extraordinary event in Richmond, VA called Richmond Unite. Pat brought in some of the most innovative minds and business leaders to Richmond for a charity event — including Sir Richard Branson.
I'm proud to say we were the catalyst for Pat meeting Richard, via one of our Necker events. [Note: We're very close to announcing the next Necker dates; this got a bit sidetracked due to the fire to the Great House… but keep your spring schedule open!]
Pat graciously invited me to come down for the event. At first I wasn't sure if I'd go, because I would literally have to drive down and then back home again that night to catch a super early flight for Vegas the next morning. But in the end I decided it was worth it… and I could catch up on sleep on the plane…
During Richmond Unite, there was a Q&A session with Richard about Virgin Galactic; and me, Pat and Kelly all came out in our "astronaut" jumpsuits. (What you don't see in the pic is how super cool I look because I was totally unaware we'd be wearing these. So I've got on some fancy dress shoes with sweet purple striped socks.)
The event was really superb — first-class all the way from the actual seminar to the VIP dinner and after-party at the Museum of Fine Arts. They had all sorts of amazing performers and entertainers… Good stuff and well worth getting involved next year if you're on the East Coast. Check it out at www.RichmondUnite.org
From there, I headed off to Vegas for my MasterMind group meeting and a private Astonishment Architecture™ workshop I led on the first day.
The Astonishment Architecture™ concept is all about this somewhat simple concept in theory, but difficult in practice: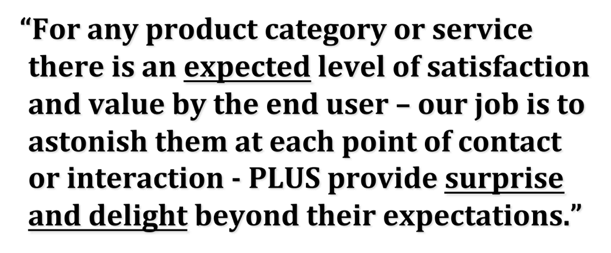 We stayed at the Cosmopolitan Hotel, the newest hotel on the strip. It's a great property; and we went on a behind-the-scenes field trip of how the hotel astonishes its guests. One thing that impressed me was before I checked in, they had actually researched me via social media and found out I was into adventure… so I had a little welcome envelope with info about indoor skydiving info about the Sky Jump printed out for me. Smart.
The group got to tour some of the most expensive penthouses and bungalows the Cosmo offers up — and here's the group cuddling up on the couch…
I really like surprises; and parts of our tour gave us an interesting "insider" viewpoint on their operations. One of the most interesting surprises added to the Cosmopolitan is a "hidden pizza joint." There are no signs or mention of it around the other restaurants; it's literally like you stumbled into an excellent NYC pizza spot. Sometimes the front desk staff would hint that you should "follow your nose" near the restaurants for something good.
Our guide was Radley Medina, director of Performance Effectiveness, and he told us a couple interesting stories about the hotel, including how for the opening, certain guests were surprised with free VIP Jay-Z tickets. Now's that pretty buzz worthy!
For service, they're always telling stories to each other about creating incredible guest interactions with the theme of "MORE":
M – Magical
O – Original
R –  Relevant
E – Entertaining
One story Radley told us was about a maid who spotted a guest who looked a bit down. When she inquired what the matter was, he said his phone was dead and he forgot his charger. She seized this opportunity to go find a charger for his phone and actually plug it in the wall. That small gesture of actually plugging his phone in for him got a lot of mentions on blogs and social media.
Another thing that really struck me from was when Radley mentioned that every "Co-star" (that's what they call their employees) carries at least one card, which can be activated to compensate a guest. This means everyone has the authority to make a situation right. Obviously there are some checks and balances — for example, he mentioned a $7,500 card that was activated once, but upon further investigation it was for a high roller who had lost $1M the night before. I think it's really interesting that everybody has the authority to make things right — not just managers and supervisors.
It seemed like there was a really friendly vibe to the hotel and they're very big into creating a community. They don't want you to feel like a guest in their house, but rather part of the Cosmopolitan community. I think I'll be staying there again; and I'd suggest you check it out next time you're in Vegas.
The next day, we ended our MasterMind meeting early so we could take everyone to Zappos for a little tour and field trip. Zappos really excels at astonishing their customers, so I thought it would be a good spot to take the group.
I had a little surprise for everyone that night too — and it was almost spoiled because we saw Tony Hsieh in one of the board rooms at wor. I hadn't told anyone, but we were meeting Tony, one of our Maverick participating icons, out at his place in downtown Vegas off Freemont St.
After dinner, we hustled over to Tony's apartment to meet him. The funny thing is, the whole floor of his building had those dry-erase boards like they have in college. He told me the entire floor was occupied by Zappos employees — he essentially built a college dorm!
We headed out to his favorite spot, the Downtown Cocktail Room (shhhh…don't share this). And Tony proceeded to feed me a couple potent herbal shots. I had no idea what was in them, but they hit me pretty hard later on – especially after I had a bit of absinthe to follow them up. We took a little tour of the area with Tony showing me all the projects they were working on to revitalize the area. His theme is "From Sin City to Sim City." Pretty wild… and they have some big plans now that Zappos will be moving their headquarters to downtown.
UPCOMING Maverick News & Notes!
As you read this, me and many other Mavericks will be just coming back from tearing it up in Baja, off-roading on parts of the Baja1000 course with automotive legend, Steve Saleen. Expect some "You missed it" Facebook posts from attending members!
Also, you might have time to get into Awesomeness Fest taking place November 3-6, 2011 in Maui, Hawaii, headed up by fellow Maverick Member #85, Vishen Lakhiani. There should be about 8 – 9 Maverick members there — a good opportunity to get off the mainland!
AND, we'll also be hosting…
Maui, Hawaii — Nov. 2, 2011
We designed this mysterious evening to ignite the flame of each unique and bold guest who attends. Come join your fellow Mavericks, impactful entrepreneurs, game-changers and innovators for a smoking hot evening that's definitely not just another "networking mixer" or boring dinner party.
Make sure you RSVP if you're attending!
RSVP now at: http://www.maverick1000.com/burn/
What's more, I'm getting really excited about the upcoming…
This event is NO COST for Maverick1000 members — and we're hoping to make this the biggest global gathering of Mavericks all in one spot. This is really a MUST NOT MISS event. We have several keynote presenters and guests to announce… So make sure you register now:
www.Maverick1000.com/m3summit
Confirmed Special Maverick M3 Summit Guests include:
Frank McKinney 

Real Estate Artist, 5-time International Best Selling Author, "Suber Hero meets Robin Hood" philanthro-capitalist, risk-taker, Ultra-marathoner and visionary who sees opportunities and creates markets where none existed before.
Starting with just $50 in his pocket, Frank ventured into real estate, buying his first $50,000 fixer-upper and then selling it a few months later for a $7,000 profit. Now, 25 years later, McKinney creates real estate markets where no others dare to tread. He has built spec homes (homes built without a buyer) valued in the tens of millions of dollars. A true maverick with a charming flair, he is without peer in the risky world of speculative high-end real estate, shattering price records with each new project.
Each year, Frank joins Maverick members on an exclusive adventure to Haiti, where his Caring House Foundation builds self-sustaining villages and works with micro-entrepreneurs. Combining his spiritual highest calling with personal and professional activities is integral to Frank's success. At the M3 Summit, Frank will be discussing this newest concept of "Philanthro-Capitalism."
Kevin Harrington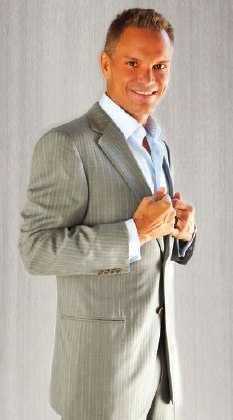 Appearing on the hit ABC show "Shark Tank," Kevin Harrington is a pioneer and principal architect of the infomercial industry.
In 1984, Kevin produced one of the industry's first 30-minute infomercials. Since then, he has been involved with over 500 product launches, which resulted in sales of over $4 billion worldwide — including 20 products that reached individual sales of over $100 million.
Kevin founded Quantum International, Ltd. in the mid-1980s, which merged into National Media Corporation in 1991. Under his leadership as President, National Media reached $500 million in annual sales, distributing in over 100 countries and 20 languages. This company's success has been chronicled in a case study at Harvard/MIT for over a decade. Kevin was also CEO of several other entrepreneurial companies, including HSN Direct, a joint venture with Home Shopping Network in 1994; and Reliant International Media in 1997.
Kevin will not only be sharing some of his hard-won secrets with us, but also participating in the "Maverick Idea Pitch" competition, when young entrepreneurs will come in to pitch their business ideas to us. This allows Maverick members to help local young entrepreneurs, by brainstorming about their business ideas… and even having the opportunity to make a lasting impact by taking on a mentoring role or providing seed capital.
Make sure you sign up right away: www.Maverick1000.com/m3summit
All for now… in the meanwhile: Keep having more fun, making more and giving more back — and keep your eyes peeled on our infamous Maverick1000 Facebook, etc. for pictures from the Baja trip!
—Yanik