Doug Doebler in "The Natural"
(Note from the editor: Rose Ayers-Etherington): I knew from the beginning that Doug Doebler is a super cool guy. He is a brilliant entrepreneur, a vastly influential philanthropist and an athlete ( ask him about his golf skills). So it came with no surprise when I found out that Doug could also add "Movie Star" to his bio. That's right, Doug starred in the 1984 hit "The Natural," starring Robert Redford, Robert Duvall and Glenn Close. Its a story about an average baseball player that comes out of seemingly nowhere to become a legendary player with almost divine talent. Doug and his prized car at the time (a 1937 Buick) made a cameo appearance as Cab Driver and cab. Check out Doug's account below:
The car was a 1937 Buick with just primer paint on it. I bought it to restore when I was 16 years old but never got around to getting it done. I had it advertised for sale in a auto swap page magazine in 1983. A California movie company saw it and ask if they could borrow it for a few weeks – they painted it like below. The "Natural" staring Robert Redford was filmed in Buffalo, NY about 2 hours from my hometown.
Robert Redford during filming of The Natural
Group of Film Cars including Doug's 1937 Buick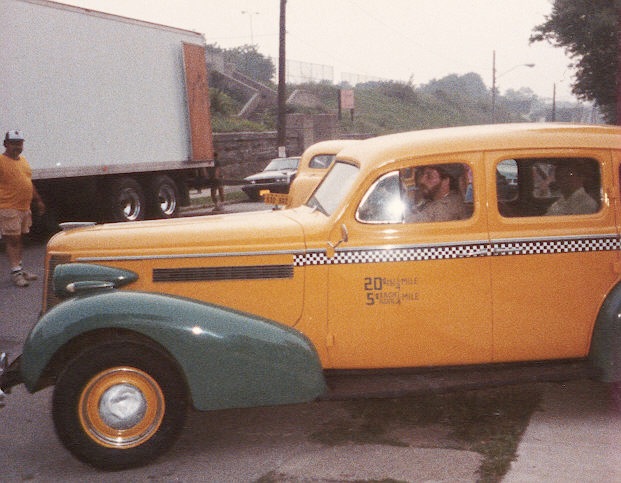 Doug's 1937 Buick day of filming for the Natural in Buffalo NY – Doug Driving
I got to drive it in the movie – was paid $100 for the day and got my car painted for free.
I met Robert Redford and Robert Duval. At the time, I Didn't know who Glen Close who also stared in the film.
Doug at the costume truck for his role as a taxi driver in the Natural movie with Robert Redford
 Robert Redford Autograph
I kept it a few years and sold it to a guy who sold it to another guy. I didn't know
if it was local or busted up for parts. Two years ago, my father called and said he saw it
at a local auto show. I ran to the show and met the guy that owns it now. He repainted it like in the movie. He owns a camp ground and gives kids rides round the campground. It was fun to see the old monster taxi again.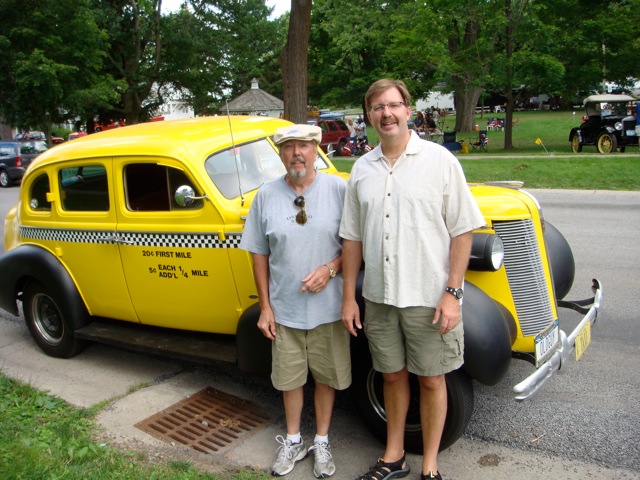 Doug and the current owner of the Taxi Cab from The Natural.  2010
Doug, you're awesome! Thanks for sharing of piece of your story with us. To watch "The Natural (it's really good) click here.