Maverick Impact:
OCEAN CONSERVATION
The hard truth we face today is
that the oceans are dying…
And the stakes couldn't be higher.
However, with every critical issue comes an unprecedented opportunity. It takes applying our creativity, resourcefulness and entrepreneurial talents to make a real impact in support of ocean conservation.
Why the Ocean and Why Now?
You can look at it from an economic standpoint with the Ocean accounting for the biggest "business" in the world. In that way it would actually total the world's seventh largest economy with a "GDP" equivalent to US$2.5 trillion (about 5% of global GDP).
Or in an ecological, planetary view our Ocean is responsible for every other breath we take, it has absorbed a quarter of our CO2 emissions, and, of course, puts food on our plates.
You may not be able to see it from above the surface, but the threats are many and the risks are real: plastics are choking our sea life; pollution is causing 'dead zones'; climate change is heating our Ocean, making it more acidic; too many boats are chasing fewer and fewer fish. What's more, critically important coral reefs are dying – they cover only 0.2% of the ocean floor yet provide us with more than 70% of the global oxygen supplies we need to survive.
All of this leads to facing a critical choice point.
"Without a healthy Ocean we do not have a healthy planet."
– Chasing Coral documentary
Now the good news is the Ocean is amazingly resilient and could recover, but it needs our help.
Businesses can take the lead to not only make a true global impact but also add to their bottom line, while promoting a healthier, cleaner, safer and more productive Ocean.
The UN's Global Goal #14: Life Underwater
Maverick members and other invited business leaders came together recently in the
Bahamas in support of this critical issue in conjunction with the UN's Global Goal #14: Life Underwater. Ocean Conservation is the key focus Maverick will be working on in 2018.
Maverick1000 members were just recently in the Bahamas to get hands-on with marine biologists from Beneath the Waves and Karen Sack, Ocean advocacy expert from Ocean Unite, to discover how we can use entrepreneurial solutions to make a difference. The group learned how numerous and interconnected the issues are from multiple angles.
Here's a recap Virgin posted from our Impact experience: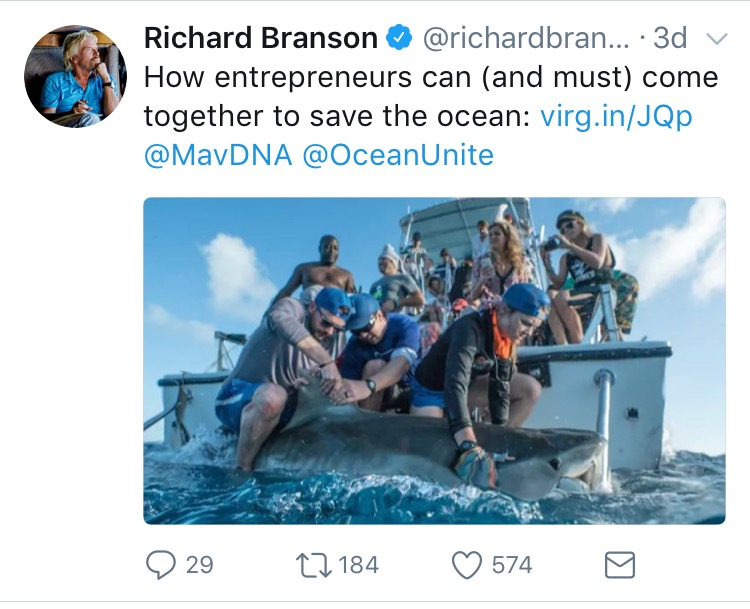 Click here for Video highlights From the Trip
Dr. Gallagher is a world-authority on sharks and has lead hundreds of shark research trips and expeditions around the world and expose hundreds of people to sharks up-close. His NGO Beneath the Waves conducts cutting-edge research on sharks to create meaningful data needed for their conservation.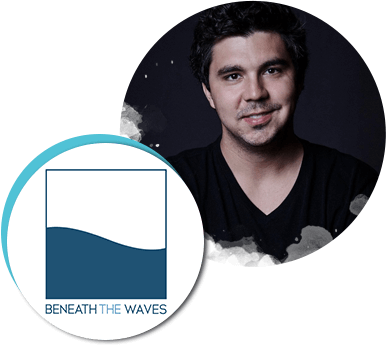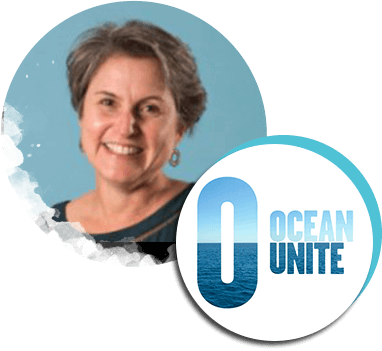 Karen Sack, founder Ocean Unite. Karen brings over 20 years of experience working for international non-governmental organizations on environmental issues. She was formerly the Senior Director for International Oceans at The Pew Charitable Trusts where she helped initiate the Global Ocean Commission. Before that, she was the Head of Greenpeace International's Political & Business Unit and the Head of their international oceans campaign.
In 2004, Karen was the first person from a non-governmental organization to speak at a regular session of the United Nations General Assembly, representing the concerns of over 60 groups from around the world over the plight of our oceans.
What's Next?
Get Deeper on the Critical Issues Facing Our Ocean:
Net Zero Carbon
Emmision by 2050
Reduce Marine
Water Waste
Support Ocean
Regeneration Zones
Only Consume
Sustainable Seafods
Ocean Corporate
Social Responsibilty
Support Innovation and Science and Share Best Practices
Become Active
Ocean Conservation
Advocates
Watch Karen Sack present a short, in-depth look at these issues
Get Inspired By Other Businesses Making an Impact
At the Maverick Impact experience, the discussion was around what could we individually do in our companies. To get ideas flowing, we shared numerous examples of "Evolved Enterprise Impact Models" specifically for companies impacting the ocean.
Watch Yanik Silver's Evolved Enterprise Presentation for
Impact Business Models and Ideas
Here are a few featured examples:
Note:
These models are based on
Evolved Enterprise
book, where you can see even more examples of how this concept grows your bottom line but it can create sustainable, competitive advantage, engage your whole team and get your customers wanting to become advocates for you.
Get Going
After being immersed in actually experiencing the issues facing the Ocean, it's up to you how you want to change the way business is played.
We had quite a number of different industries and businesses represented from Maverick members who attended.
What did Mavericks come up with?
A fulfillment company figured out ways they could immediately reduce their plastic packaging which reduced their costs. Then, they considered if they could provide an incentive for each of their clients to also reduce their own packaging, which only would serve everyone.
A publisher decided she could provide a % from sales for an upcoming promotion.
A consultant who works with Amazon eCommerce companies is working on providing resources and information on reducing plastic packaging.
A luxury villa rental company in Mexico had already taken steps to remove all plastic bags from groceries delivered during stays – but now has gone one step further. She is going to create local ocean clean-ups to bring these separate families together and build community among the villa renters.
Maverick members have also been engaged in several Ocean Conservation projects including the BVI Art Reef Project developed by Maverick members on Necker Island with Sir Richard Branson and Virgin Unite.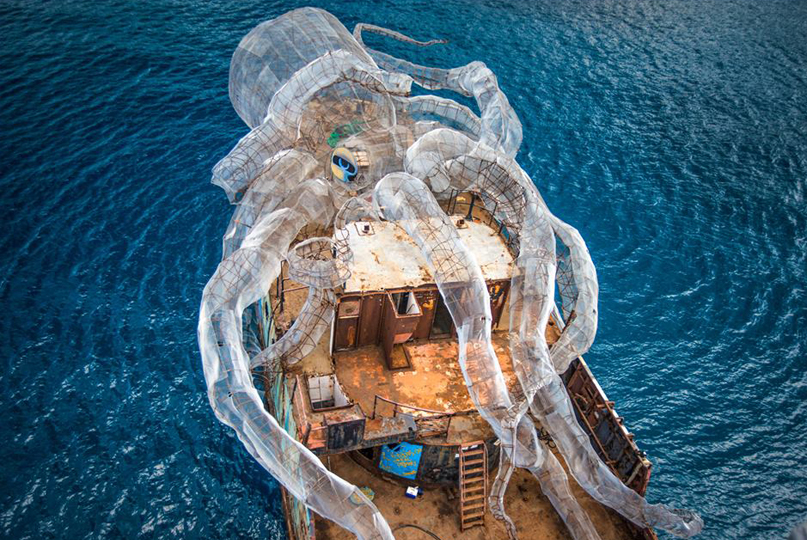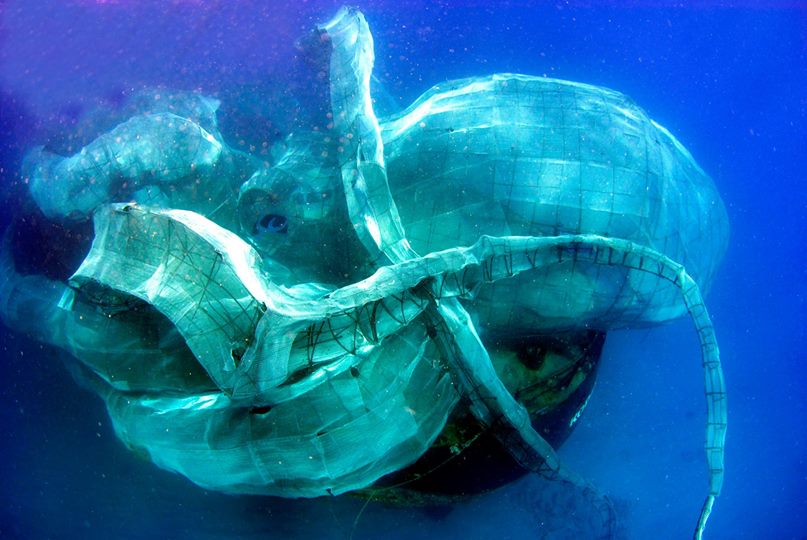 Mavericks were also recently challenged to develop a self-sustaining business that can help reduce marine plastic.
This project being incubated is a for-profit consulting company to help companies implement key initiatives to shift their plastic usage, waste and recycling. It's being lead by a team of young entrepreneurs we are mentoring and assisting.
You can develop your own ideas for to use in your business in alignment with Ocean conservation. This could be as simple as a new idea for a promotion or a more deeply integrated campaign across your company.
30X30 Global Impact Project: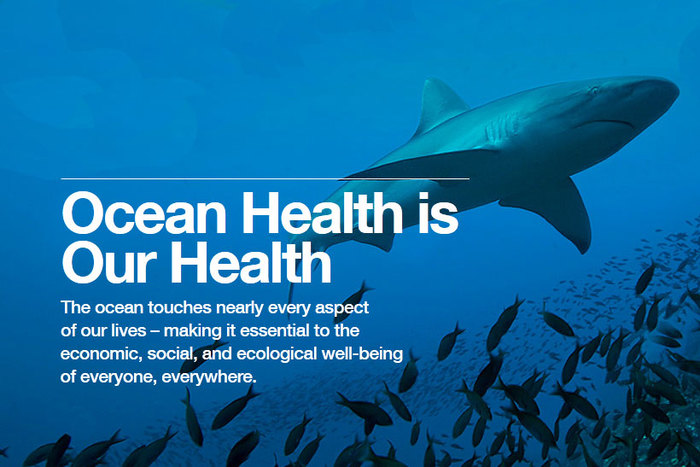 Karen Sack, head of Ocean Unite led the discussion with Mavericks for key steps to implement a collective plan that other ocean advocacy groups have agreed to; protecting 30% of the Ocean by the year 2030 (30X30). As of right now we have about 6% of the Ocean protected with the addition of Mexico's just added Revillagigedo Archipelago National Park.
Together we worked out the first key steps to getting different brands to become Ocean Stewards and what the benefit is for each partner. Part of the plan is how these companies would benefit from increased valuation, higher sales and a deeper mission with a key issue that really matters.
Look for more details on this as it continues emerging. Or if you have ideas or would like to provide your talent, resources or connections please contact us.

About Maverick1000: Maverick1000 is a global collective of exceptional entrepreneurs, experts and industry leaders in 91+ industries. Members meet periodically throughout the year to connect in bold, new ways to challenge and collectively support each other's biggest business goals and personal growth, engage in exclusive experiences, and co-create a significant, worldwide multiplier impact (to date raising over $3 million+.)
Maverick members experience transformative retreats and experiences including a one-of-a-kind epic trip hosted by Sir Richard Branson and our marquee Camp Maverick summer camp. www.Maverick1000.com/events