Thank you and Congratulations on taking the first step towards Maverick1000 membership.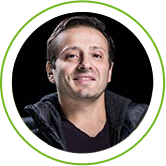 Hey – Yanik Silver here…
Thanks for taking the next step toward Maverick1000 membership.
Our mission is to "change the way business is played" (the word 'played' is included very intentionally here too).
We do this by instigating the instigators, connecting the connectors and catalyzing the catalysts – with a dash of maverick mischief thrown in.
We believe business can be the biggest lever for making a meaningful difference in the world. Collectively one community of impactful entrepreneurs can change the way business is played!
One of the more interesting things about the group is, I don't get final say on who's in. You can't just write a check to get in. The members actually vote on who is accepted based on your "Maverick DNA."
Now that you've spoken with our enrollment team and completed this pre-application, we have what we need to forward your application to our members for approval and will get started on that right away.
Please expect to hear back from us with a decision within around 2 weeks.
If you have any further questions in the meantime, feel free to reach out to our Community Curator/Catalyst, Chris Hay: chris@maverickdna.com
Here's to your growth.
Talk soon,
Yanik & the Team