Thank you and Congratulations on taking the first step towards Maverick1000 membership.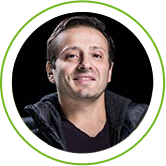 Hey – Yanik Silver here…
Thanks for taking the next step toward Maverick1000 membership.
Our mission is to "Change the way business is played." (The word "played" is included on purpose here.)
We do this by instigating the instigators, connecting the connectors and catalyzing the catalysts – with a dash of maverick mischief thrown in.
We believe business can be the biggest lever for making a meaningful difference in the world. Collectively one community of impactful entrepreneurs can change the way business is played!
The first step is for us to get to know each other a bit and see if we're a fit and vice versa.
Don't worry – there's no "hard pitch" or big sales presentation here.
One of the more interesting things about the group is, I don't get final say on who's in. You can't just write a check to get in. The members actually vote on who is in based on your "Maverick DNA."
Now, instead of playing phone tag or emailing back and forth, the easiest way to get scheduled for this "Maverick DNA Decoder Discovery Session" automatically right here:
If you want to get a hold of me before the call, I'm at yanik@maverickdna.com
Talk soon,
Yanik
P.S. We've never done any type of big launch or big promotion for membership because I'm more interested in adding the right kind of Maverick entrepreneurs to the network.