Maverick MEGAmind
"The IMPACT Series"
Maverick Entrepreneurs, Visionaries & Impactful Leaders Coming Together to Connect, Collaborate and Co-Create for the Greater Good.
What is an IMPACT MEGAmind?
Let's start with what this is NOT…It will likely be nothing like any other Zoom meeting or "networking event" you've ever attended.
Instead you'll be taking part in a bit of an "odd" experiment…because we think those are fun.
Over the years, we've done many different impact sessions with various business icons and leaders. Like most experiments – some worked – others didn't. So now we are taking the best of what we've learned and creating a series of Maverick MEGAminds that will support 3 things we care a whole lot about:
THE BEES, THE TREES AND THE SEAS
We have selected these 3 global challenges to focus on within this 3-part series. Each MEGAmind will provide an opportunity to learn from world-class experts, mentor social entrepreneurs in these sectors and brainstorm ideas on breakthrough solutions for our own companies and beyond.
The Maverick IMPACT MEGAmind Is All About Using 'Purposeful Play' To Activate These 3 Maverick Multipliers… For The Greater Good.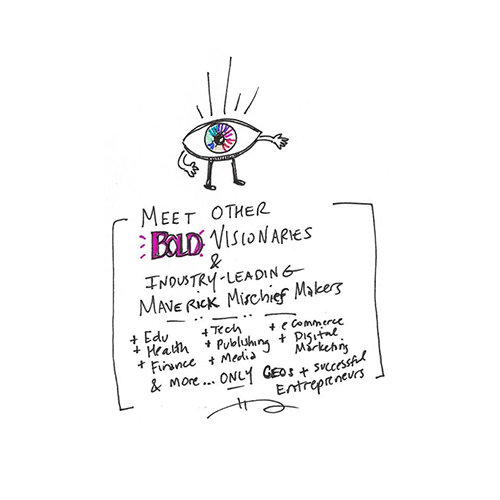 Maverick Multiplier #1: CONNECT with potential high-leverage partners, founders, CEOs and successful business leaders across multiple industries and marketplaces.
(The group is always highly curated and by invite only)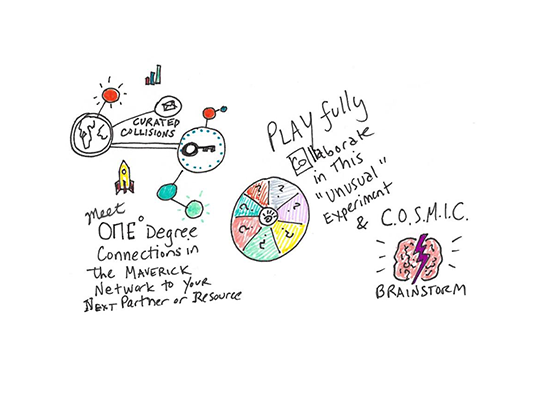 Maverick Multiplier #2: CATALYZE. Purposeful Play is designed to not only be fun, but also to open new doors, unlock new opportunities, and create those one-degree connections that can uncover new resources.
Mentorship: We will be mentoring social entrepreneurs that are already in the business sector supporting the cause. You'll be asked to help by giving your personal hard won advice and insights to help them go further & faster.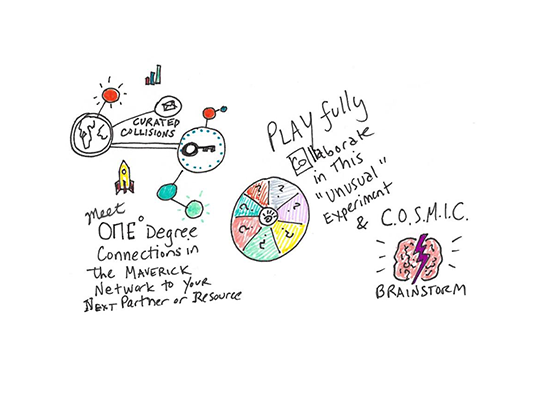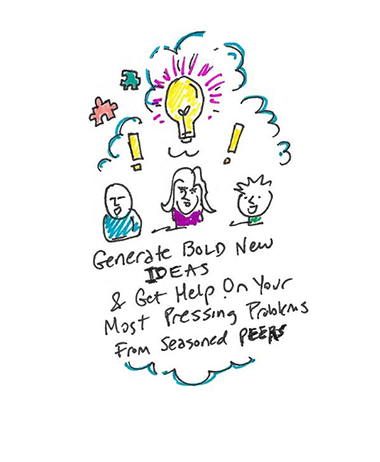 Maverick Multiplier #3: CO-CREATE actionable new ideas and share resources to help solve for some of the most pressing challenges we're facing right now. This is where we tap into the collective brainpower, resources, networks and capabilities to co-create something meaningful! This is also the spot where we will brainstorm ideas that you can take back and implement within your own business and beyond.
Oh, and your donation to the Impact Fund will go towards the project we collaborate on here!
Who are Mavericks?
"On paper," Maverick members are 21st century business leaders who collide at the intersection of bold business initiatives, joy and greater meaning. They are successful entrepreneurs with industry-leading companies ranging from $1M to over $100M+ in annual sales and are lighthouses across 91+ industries and marketplaces.
But, more than what they've done, it's about who they are. We're looking for a certain type of individual. We call it Maverick DNA. At the core, Mavericks are committed to continuous business and personal growth, creating an impact in the world and having a lot of fun in the process.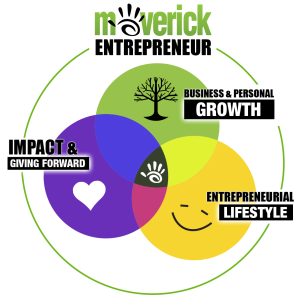 Come Together to Connect, Ideate and Playfully Collaborate to Make a Serious Difference…
Without Taking Ourselves Too Seriously
Mavericks and Sir Richard Branson on their annual visit to Necker Island working and playing together to make a greater impact.